We're launched! Once we are through security on our way to boarding for Johannesburg, it feels like the trip is official.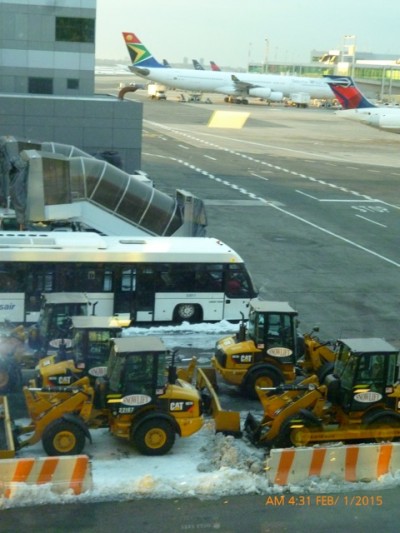 The bank of snowplows on the tarmac at JFK in view of the wing of the South African Airways jet was a welcome reminder of the short respite from winter that lies ahead.
Once in flight, it is 15 ½ hours into "JoBurg," as the locals call it. The flight lands at dawn (in this case, February 2), then a layover only long enough to get through passport control, security, and the trek from one end of O.R. Tembo Johannesburg International Airport to the other where, today, they were about to begin boarding for Ndola just as we arrived at the gate. Much better than the last trip where we sprinted the entire way and had to beg them to bring another bus for us and the three other passengers also coming in from late connections! (All small planes board via a bus that takes you to your plane on the tarmac.) There is only one flight each day from Johannesburg to Ndola so we were eternally grateful that they obliged.
Two more hours (a critical nap time) and then we safely landed back in our Zambian home. SOOOO good to be here. Now we just have the challenge of staying awake for 5 more hours until a respectable bedtime of 7pm.
Arriving at Castle Lodge we were greeted by several practice opportunities. The day before had seen extremely heavy rains for 24 straight hours along with high winds. Three electrical poles were down on the road to the lodge and there was no electricity, which also means no running water and no internet. Always an excellent reminder of all we take for granted.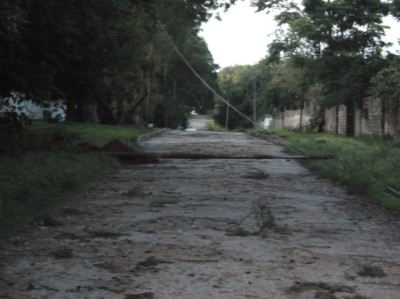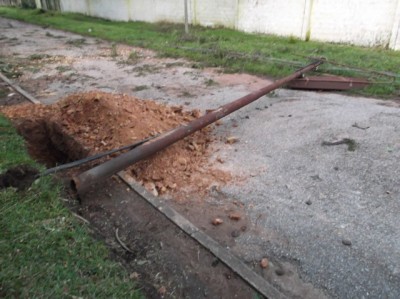 The electric poles down in the street. Yikes!
Nevertheless, we were very well cared for as always. Theresa had drinking water ready for us and the lodge staff warmed water over charcoal for us to bathe. They cooked a wonderful dinner of lentils, potatoes and steamed vegetables, also over open fire. Life is good, indeed!