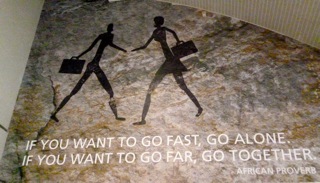 At Johannesburg airport, waiting for our flight to Ndola, this African proverb called out to us from high above the departures hall.
Remembering the roots of the word Sangha—walking together—we appreciated the reminder of walking together as one team: those of us traveling to Zambia from the US, those of us on the ground in Kantolomba, and those of us in Sangha around the world who are walking together with this trip by following the blog. Much gratitude for these direct experiences of the interconnectedness of all Life, and how we are supported by us all walking together!
This is a perfect place to remind you that registration for the Golden Gate Bridge Walk in San Francisco on October 5th is now open. The Walk is our annual celebration of the Africa Vulnerable Children Project and the generosity and support of all who participate in it—and if you are reading this blog, you are participating! Even if you are not able to make it to San Francisco in person, we wholeheartedly encourage you to register and to participate by walking together with us from wherever you are!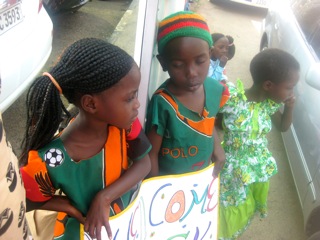 More supporters!
Arriving in Ndola, we spy part of our welcome team decked out in the Zambian national colors (the Zambian national soccer team has some important World Cup qualifying matches coming up and people are enthusiastically getting behind them). The Living Compassion sewing cooperative has been making some fabulous items in the national colors, including hats, scarves, and these stunning outfits.
Theresa was very excited for a special surprise she arranged for us—our welcome team included students from Joy's preschool English class! Theresa reported that while they were waiting for our plane to land, one of the students began speaking in Bemba and one of the other students exclaimed loudly enough for those in the nearby crowd to hear and get a good chuckle, "No! We are practicing our English! We must speak English!" A big part of our focus for this trip will be to work with the team here to strengthen and expand the English program in Kantolomba. It is part of the big-picture vision for the project for Kantolomba to become a regional center for English learning; that is, for people to come to Kantolomba from the surrounding area to learn English, just as they do now for access to clean water.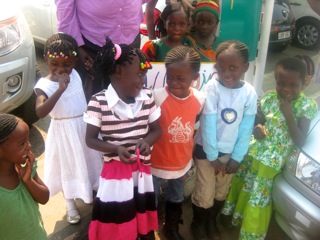 Check out those cute faces!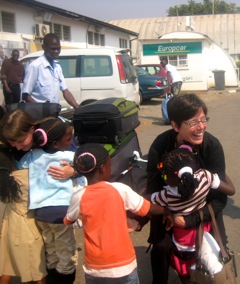 Big hugs all around as we arrive.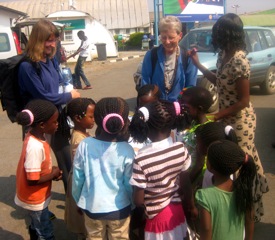 Joy and the students show us the special gift they have all worked on together to prepare for our arrival...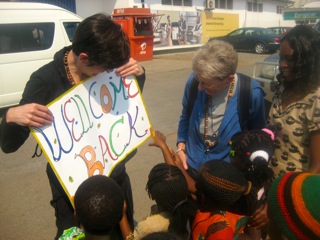 ... a beautifully decorated "Welcome back" sign.
Arriving at Castle Lodge is a welcome homecoming after a very long journey. We were thrilled to be greeted not only by the usual warm hospitality of the staff, but also the fabulous new and improved mosquito nets hanging from elegant wood frames on the ceiling. Anyone who has ever slept under a net knows the misery of getting tangled and attempting to get in and out. These new frames make the process a dream! They were installed only hours before our arrival, specifically for us. It feels like a testament to practice. Over the years we have kindly yet persistently asked for provisions for mosquito prevention—good nets, screens on windows, etc. This new improvement was a gift from a staff who seems to be happy to see us each time we arrive.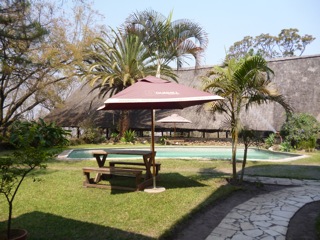 The beautiful front yard of Castle Lodge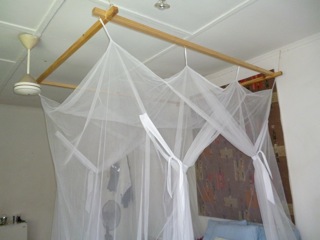 The new net frames. Ahhhh…
The remainder of the day was well spent in getting groceries and water and unpacking and settling into our home for the next couple of weeks. It is a joy to be HERE.