Big day—lots to do, much to discuss, and it was also Beth's last day at the site.
The children were lively and ready to greet us when we arrived! Upon the car's turn into the property, we saw little Bruce (he's a mischievous one) clapping and getting the other children ready to go. He quickly led them all over to the car door, waiting for it to open so they could greet us.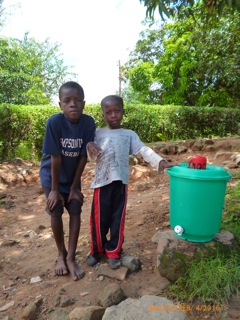 Bruce (right) and friend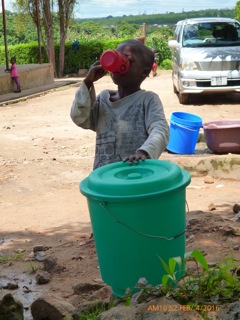 A cool drink after succeeding in his task to free the musungu
Beth and Sreedevi began greeting the children as Jen and Theresa finished up a conversation they started in the car on the way out. After a few minutes, Bruce yelled something over to Theresa and she burst into peals of laughter. "He is telling me not to hold Jen in the car, to let her free!" He was just getting his lunch and brought it out onto the porch to keep a close eye on us. As soon as we got out of the car, Theresa called over, "I have let her free." "Okay," he responded and brought his lunch into the dining hall with his friends, his duty now complete.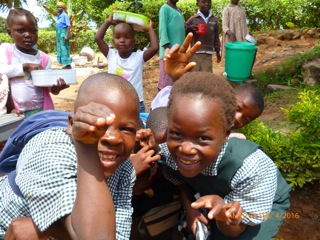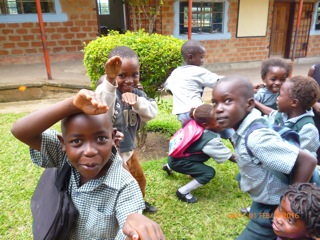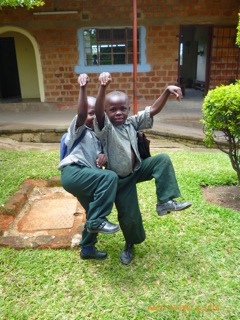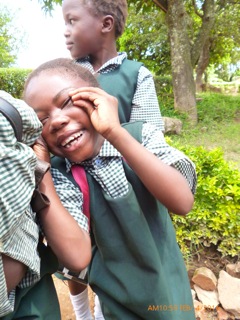 Some goofy photo fun to start the day
We all dispersed after that, each off to tend to a specific focus. Jen reviewed notes from the previous day's meeting while Sreedevi was setting up Theresa's new computer, including Skype capabilities! Since the previous day's Skype call had gone so well, it was exciting to think about all the possibilities moving forward.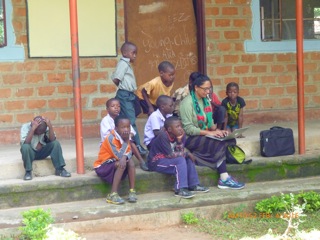 Sreedevi is kept good company while working on the computer.
Joy works religiously with the grade 8 girls every morning. They are the only ones whose school day starts later in the day and ends after the girls program ends. Joy makes sure they get the academic support they need in the mornings. We are very lucky to have her on the team!
Because we are putting the program in place, much attention is focused on the Girls Program, involving mostly the teachers. It is very good to pause regularly to remember the heroism of the team that is providing the sustenance every day. In fact, the lack of focus on this area is testament to their well-oiled machine! There are endless details to arrange and manage to feed 1,000 children plus around 40 adults while cooking over charcoal braziers. They do it so gracefully, so humbly, that it can almost seem easy. One day in their shoes would certainly prove otherwise!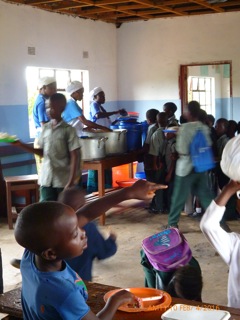 The team, serving
Receiving!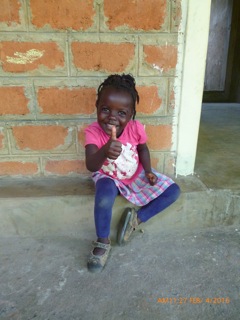 Gratitude!
Washing dishes to ready for the next group. What a beautiful circle!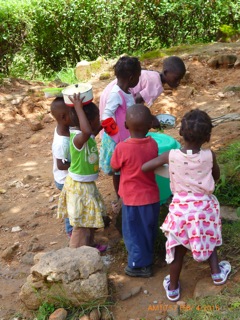 Little lunch boxes containing leftovers carried home on little heads
As we worked in the big room, there was a huge round of laughter outside – lots of kids laughing and clapping. Upon investigation, we saw Beth surrounded by children, teaching her how to say words in Bemba. Jen (one of our drummers from Tuesday) was leading the instruction. It was fun to see the kids repeating the pronunciation until Beth said it correctly, then erupting into applause! It was almost a complete reflection of our experience in teaching the children correct pronunciation of English. It is fun to experience the two-way exchange of languages that happens while we are here.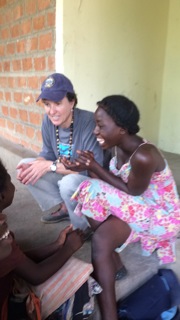 Beth and Jen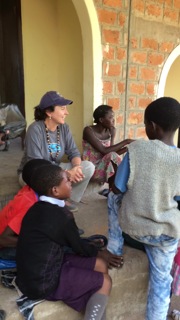 Bemba practice!
Today's staff meeting included the whole teaching team (minus Ethel), along with one of the newest cooperative members, Elias. Elias is Pascal's son. He joined the team after Pascal retired. The meeting began with reviewing what has been working in the girl's program so far. Many of the staff contributed – citing confidence, interaction with the girls, and most important "the love we show each other." Amazing to acknowledge all that is already working!
As we transitioned into looking at the details for the program going forward, Beatrice offered us a fantastic image. We were talking about how important it is to look at the program from the perspective of how we want it to be, not limiting ourselves to what "seems like we can do," or assuming that the resources we have now are all that are available to us. Beatrice reflected that point saying, "A big vision attracts a big god!" We knew exactly what she meant! Reminded us of how when we truly commit to something, Life seems to always line up a way for it to happen. It's a keeper!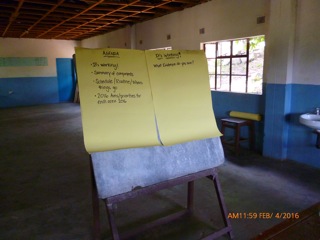 Charts to start the meeting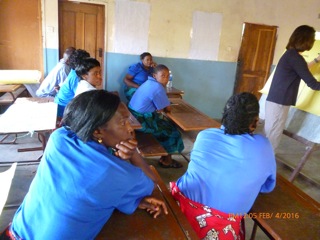 Much input on "what's working"
We then reviewed how many girls were in Grades 7-11, the grades the girls program is likely to focus on. It was interesting to see that the majority of the girls were in Grade 7, with significant drop offs in Grades 8 – 11. As an example, Grade 7 had 17 girls, but grades 8-11 had around 3-4 girls in each. Why was this? The team offered a couple of critical reasons: some of the girls didn't pass exams to move into Grade 8; others were financially challenged; some families needed the girls to stay home and watch the younger children while they went to work. As we explored these reasons, it was clear how many challenges the girls faced in succeeding, which underlined the need for this program. It was also an illustration of how the work the team has done this far has succeeded. All of the grade 7 girls who opted into extra lessons last year passed to grade 8! This got the attention of both parents and students, so enrollment of the grade 7's into the girls program has greatly increased!
Next, it was scheduling. What seemed to drop in during the week, and was re-affirmed at today's meeting, was having the academic part of the program Monday through Friday and the non-academic parts (sex education, health workshops, etc.) on Saturdays. As this was being discussed a secondary possibility dropped in. We had been focusing on the girls coming together to talk about these topics on Saturdays, but then we realized that Charles and Elias did not participate in those Saturday meetings and perhaps this was an opportunity for the boys to receive some male mentorship! Both Charles and Elias nodded to this. Charles added wisely to the conversation that often the reason girls have problems in the community is because of the boys. "You can't touch one side without touching the other." Something to consider going forward!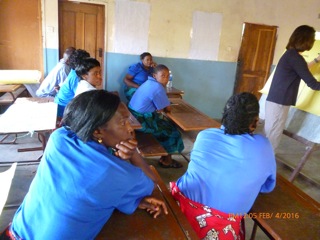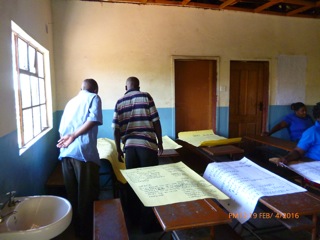 Taking some time to look over the previous days' notes to see if we had left anything out of today's summary
We then broke out into groups – each exploring one of the four areas of the girl's program: Values/Process; Academics; Financial Support; Staff Support. Under each area, we looked at 1) what are the priorities for 2016, 2) the materials we had and the materials we would need, and 3) how we would do it – proposals/suggestions. The teams spaced out across the big room, and into discussion we went! After some time, we came back together and presented under each area. This was a lot of fun! Each team presented their thoughts, while other groups had the opportunity to ask questions and further flesh out the ideas being presented. It was a great way to have each member of the team involved in a part of building the program.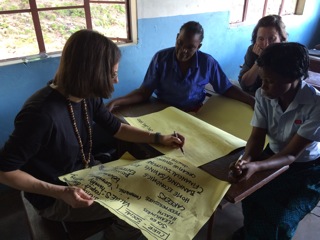 The "non-academic support" team
First up were Theresa and Beth, who presented ideas on Financial Support. The idea they presented was to divide up the financial costs between Living Compassion, the parents, and the girls so that each had equity in the program. For example, Living Compassion would pay the tuition, the parents would pay for shoes, notebooks and uniforms, and the girls would take care of costs for their personal needs, transportation fees, and other items. One question that surfaced was whether it was realistic for the families to cover the costs of the shoes, notebooks and uniforms? The team said it would be, as the parents had already shown their commitment to those costs as the girls were in government school already.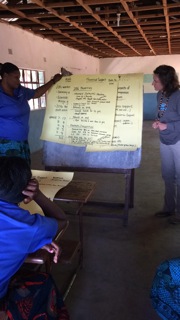 Financial support team
Next up were Beatrice, Josephine and Susan, discussing Staff Support. They put forth a number of great ideas about how they could provide support to each other.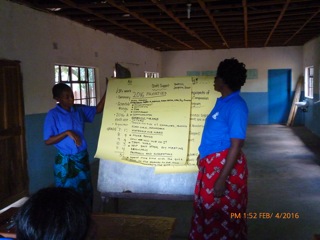 Staff support team
This is when a really wonderful thing bubbled up! The teachers had a way of celebrating the students – a series of claps that ended in a thumbs-up sign while saying "Super!" One of the team suggested that a way they could motivate each other was by saying something they noticed a fellow team member was doing and offering them a "kilo" or "kg." We looked at each other, slightly puzzled as to what a kilo was. They demonstrated it for us – a series of claps, then extending both hands out, palms open, towards the person being acknowledged (similar to a high five, but using both hands – so the "ten" or kilo). And here is what was truly lovely to watch – the staff member being acknowledged would "receive" it by clasping both her hands to her heart. We took it for a test drive and went around the room to recognize contributions of each teacher!
Recognizing Susan
Then it was on to Academic Support with Elias, Charles and Sreedevi. They discussed a possible academic schedule during the week. There are innumerable moving parts to this given all the grade levels, the various schools the Living Compassion students attend and when our teachers are available. We created a good framework and will tackle detailed timetables next week.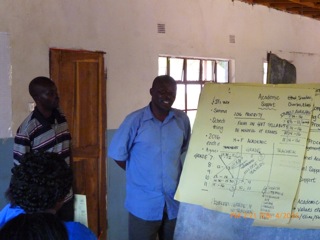 Academic Support team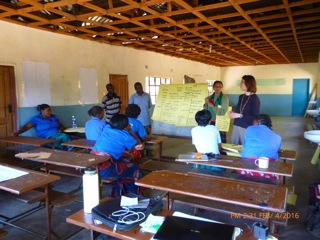 Much to discuss in the academic support area
Though we still had the values/process area to go, it was late and we were well overdue for lunch! We decided to adjourn the meeting for the day.
After lunch, we went on to other activities on our to-do list. One was working with one of the 11th grade girls, Silvia, who wants to be a journalist. We decided it would be fun to have Silvia report what the Wednesday Skype call with Mama Cheri was like (which you can read about in yesterday's blog!).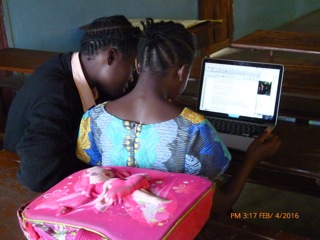 Mirriam and Silvia work on their story.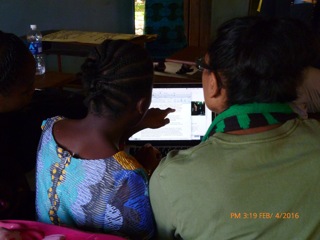 They call Sreedevi over for some assistance.
Also, similar to last year's trip, we wanted to record a "live from Zambia" Good News Update, with Theresa talking about the girls program along with some other special guests.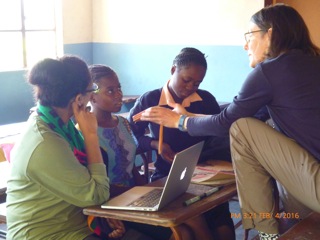 The journalist is interviewed herself for the Good News update!
Once those tasks were done it was time to leave, but not before the always heartfelt (and often tearful) goodbye when one of the visitors is leaving. The team and children gathered together to say goodbye to Beth, who would fly out the next day. It was a special moment! And though we captured a lovely video of it, it is much too long for the blog and we did not get photos. Sometimes holding an image in your heart is a good practice!
It was fun to see the girls spread out on the lawn as we were leaving, working on one another's hair. It is simple scenes like this that remind us of what a blessing it is to have a safe, quiet, beautiful place to simply be. As we approached with the camera, they quickly put away their hair supplies, thinking that too informal for a photograph. We assured them it was the activity we loved and wanted to capture. Much laughter!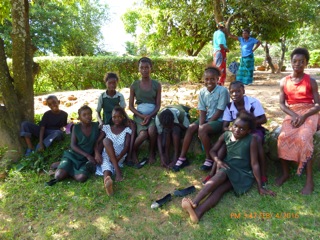 End of a beautiful day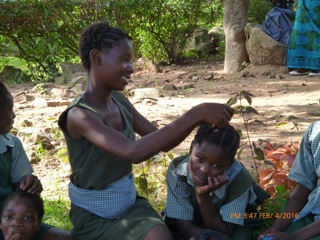 New styles will be on display tomorrow!
We arrived back at Castle Lodge to a great surprise! Eunice was there. After some hello's, we found out she was with a person near and dear to the Living Compassion project – Gaudencia! Gaudencia is the female contractor (yes, female!) who oversaw the construction of the Living Compassion building out in Kantolomba. It was great to catch up and see how she is doing. She informed us that one of her daughters is in the United States now, studying media! As we were catching up, it dropped in that Gaudencia would be an ideal person to come out to Living Compassion for one of the Saturday workshops. She was very open to the idea!
It was then time for meeting with Martha, the Living Compassion accountant. We wanted to see how we could include Martha in the program. As we began our discussion, Martha offered ideas on what types of topics to speak with the girls about, all of them in line with what we had already been discussing. It was clear Martha could not only be a participant but could also help to shape some of the curriculum of the program. Then, another "serendipitous" moment! Martha mentioned she had just been interviewed by someone from one of the newspapers about a project she and her Rotary club had been involved in. She remembered that one of our children (Silvia) wanted to be a journalist and asked the interviewer if she would be willing to meet Silvia and talk with her. The newspaper reporter said yes (yea!). We couldn't help thinking back to Beatrice's comment earlier in the day, "A big vision attracts a big god." We are clear we want role models for the girls in the program, and within hours Life is lining them up! Very fun, and even relaxing!
A full day, ripe with possibilities!