Today we had much to do in town before heading off to the Living Compassion site. On our to-do list – books, past papers (more about that later), readers, laminating the vision papers from Saturday's workshop, and getting information about projectors.
As we work on developing the girls program, one of the crucial elements is academics. To assist the girls in their government school studies, it is important for the team to have copies of their textbooks and past papers. Past papers are copies of the past national standardized exams students must take in grade 7 to enter grade 8 and in grade 9 to enter grade 10. So off we went to find a bookstore that had all of those, including the next level of Jelita and Mulenga readers, the small phonics books equivalent to Dick and Jane.
As luck would have it, we struck gold at the first shop we went to! They did indeed carry almost everything we needed, except the readers. However, we ran into a slight roadblock. The government syllabi for all grades are being changed, so the textbooks currently in stock would be out of date quite soon. Tracy (the lovely young woman at the bookshop helping us), informed us that the new textbooks would arrive in 3 weeks. We made sure our names were at the top of the waiting list! Additionally, the bookshop was able to laminate the girls' vision papers—66 total. Not bad for our first stop of the day.
Next, we were off to see if we could track down the next level of Jelita and Mulenga readers. It's hard to find these in stores, but we found someone selling them outside on the sidewalk. We could not find the next level, and posited that perhaps we had all of the levels already, and there isn't another level to Jelita and Mulenga! We did however, find some other good readers and were able to purchase those. One additional bonus find (something we had been seeking out for a while) was a Bemba-English dictionary! We should be fluent in no time!
You will note that this part of the blog is markedly devoid of photos. While the children at Living Compassion adore having their photo taken, taking photos in public in Zambia is not generally done. It is considered disrespectful to take a random street scene where any number of folks who have not given their permission may end up in your photo.
After that, we were on our way to see about projectors. As we work on increasing computer skills, Martha, who will be doing the beginning computer literacy, suggested a projector would be very helpful for showing a larger number of students the computer work at one time. We found a couple of stores that did have some, and got information on prices to store away for possible purchase down the road. The price of technology here still tends to be far higher than in the U.S.
After a quick bite to eat, we were off to Kantolomba, where two important appointments awaited us.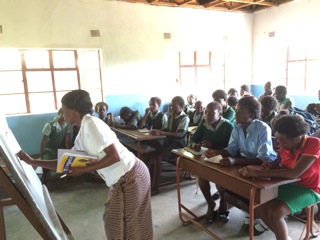 When we arrived, Joy was already well into lessons for the girls program.
Theresa had a possible new teacher scheduled to come in for an interview at 2:00pm. This teacher grew up in a place similar to Kantolomba and has finished her teacher training. It is a core value of the project, and a big part of what makes it so successful, that it is community-based. As our students progress in their studies, it has become clear to Theresa that having a fully trained teacher on board is a great benefit—to the students and also as a resource for our teaching staff. It is tricky to find someone who can bring that knowledge while sharing the grass roots vision of this project. Theresa was excited when a friend of hers introduced her to Malila as someone who may fit the bill perfectly.
Theresa and Jen went to interview Malila while Sreedevi had a project for some of the Grade 11 girls, Silvia and Mirriam.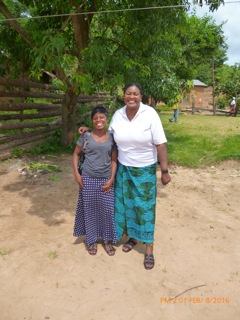 Theresa and Malila
The interview went very well and we think this could be a good match! A few more steps to take to see if she will join the team…. Exciting.
Silvia is our grade 11 student who would like to be a journalist. One of the ideas that dropped in was having Silvia and Mirriam partner up to assist Theresa and the team on putting together the weekly news blog on what's happening at Living Compassion (the "News from Kantolomba" blogs). This would give both an opportunity to participate in a deeper way, and provide some much needed support to the team! Both girls eagerly accepted our proposal, and a plan was set in motion for them to work on their first blog this week.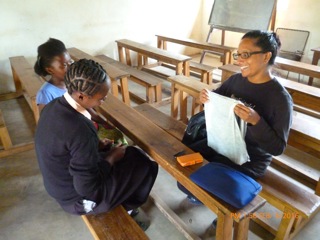 The girls and Sreedevi discuss how to put together the weekly news blog. We sense it is going to be quite a lot of fun to watch these girls take this on!
After meeting with Malila, it was time for the next appointment, with Floriano! Floriano is one of the two protégées Rose took on a few years back in her pilot "skills program." Rose, a nurse who worked with the project for many years and remains a great resource for us, is a strong advocate of the importance of education and learning a skill/profession after grade 12. She is an excellent example, herself, of the difference education can make. She grew up with very little, and today, being a nurse and her husband also having a good profession, she is able to provide amply for her family and her children are receiving a top-notch education.
A few years ago, she took on testing out what it would take to support someone through the process of learning a profession. Living Compassion provided the funds for the tuition fees and Rose provided all the attention, care, and oversight. Floriano is an amazing example of the success of that trial. He is now a much sought after bricklayer in Kantolomba and is providing well for his family. In just a couple of years, Silvia, Mirriam, Rachel and Esther, our grade 11 heroes, will be the trailblazers for the official implementation of the program Rose planted the seeds for! It will be a thrilling time as each of us will be called to greater challenges—the girls in their dedication to their studies, the staff in their care and attention to help make it happen, and we intrepid Bridge-Walkers who will have the fun of raising the funds to cover these college courses. Get ready, team, it's going to get exciting!
Today we were meeting with Floriano to get his help with laying out the transformation of the little house on the property to be the larger house for Joy and the Girls Program headquarters.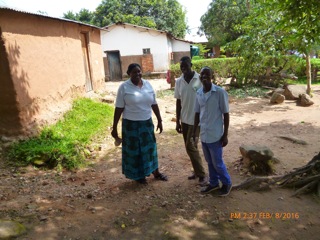 Floriano and a local electrician
We then all met back up in one of the classrooms to have some computer fun! Theresa was learning how to use the new computer we brought her for this trip, and one of the applications we wanted to test was Skype. After getting her set up and logged on, Jen (from less than a foot away) "Skyped" her and it worked! We got a kick out of Skyping each other sitting in the same room. To test it out a bit more, Theresa took her computer out of the classroom into the dining area, and we were able to say hi to all of the cooks (as though we were back in the U.S.). This has the potential to greatly increase the efficacy of our communication in between trips.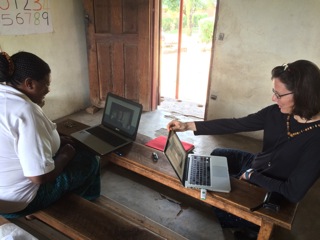 Jen and Theresa Skyping with each other from a "far" distance. So great to see this technology working out in Kantolomba.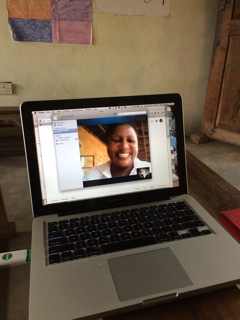 Theresa goes on a "walking tour" to test out how well it works.
With that bit of technology worked out, it was time to continue with the details of the girls program. It is a fantastic process to meet each day, review where we are, look at what else has come up since we last met, see what other insights drop in…. It is an organic, relaxing, life-leading approach to allowing the program to build itself. Given enough space and time, the details reveal themselves and what we are not ready for naturally falls away.
An excellent start to our final week!
A few gifts at the end of our day: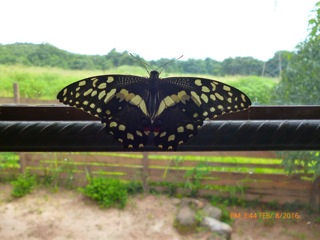 A beautiful butterfly sat completely still on one of the window sills as we worked to open the window (easier said than done when they are wired shut!).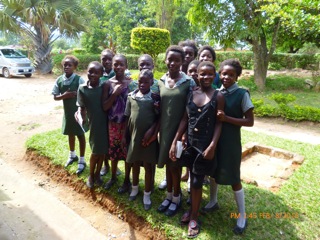 Some of the younger girls in the program pose for a photo.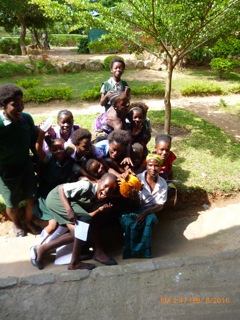 A group of girls with Regina, one of the older, yet still very playful, members of the team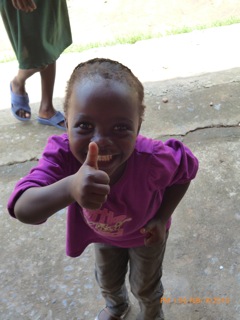 Edna had wandered into the room earlier while we were showing Silvia and Mirriam what the blog looks like, and it was clear she wanted to learn too. When we asked her to take a photo, she had a pose and a smile ready to go.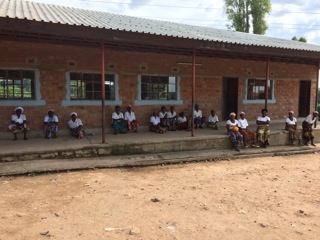 After a long day of work, the women close out their day outside, enjoying the fresh air. You can tell it's Monday—white shirt day!