It's Sreedevi's first day on the property and the kids were out in full welcome force!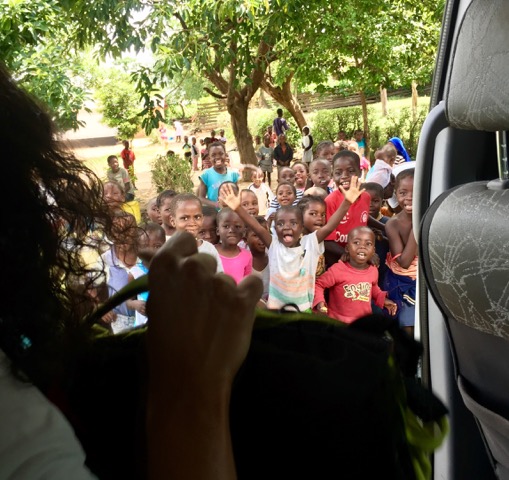 Yea!
Sometimes it's challenging to get out of the van with our many friends, so Jen employs a fun, successful strategy from previous trips – the chase game!
I'm going to catch you!
Although it's 10:30 am, it's lunch for the preschoolers; feeding 1,000 children requires staggering over several hours. Cleanliness is important so students wash their hands thoroughly before eating.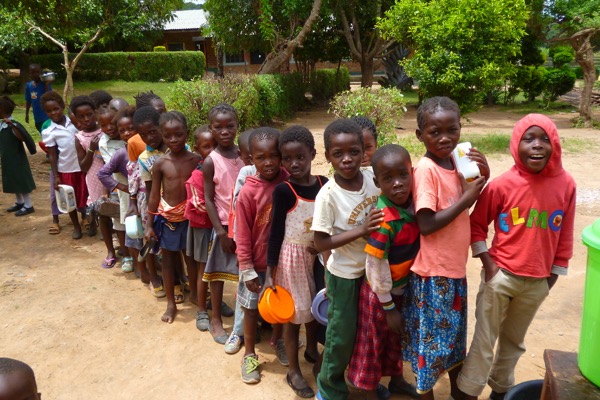 Preschool students waiting patiently to wash their hands
While eating, the incredible hand dexterity everyone has, even preschoolers, is on display, lightly squeezing and rolling the nshima into a small ball that is then combined with relish! "Relish" is a term used for anything that accompanies the nshima. nshima is the 'food' and 'relish' is what goes with it.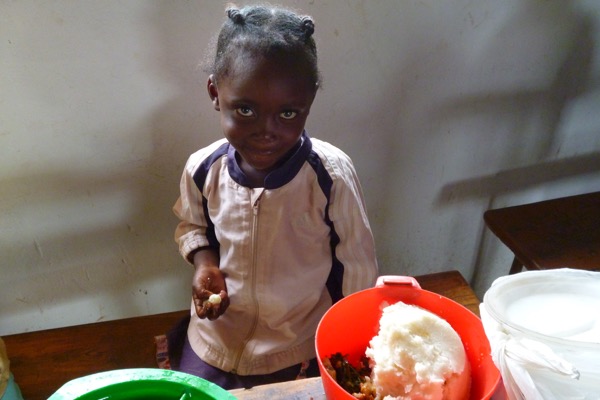 A cutie! See how she holds the nshima with all fingers?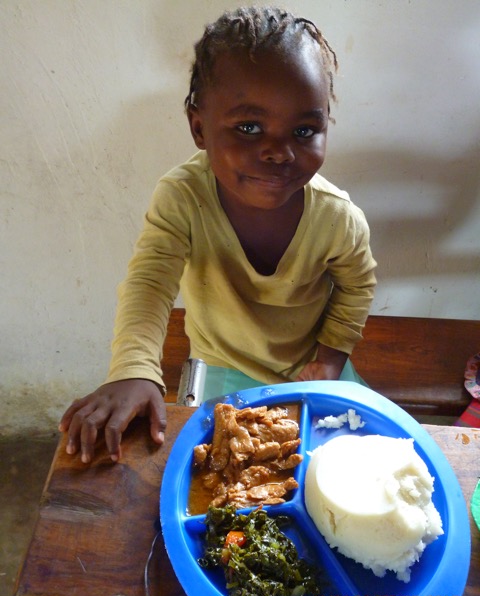 Another friend with a beautiful smile and full plate!
Next, checking in with the older girls, we discover learning for everyone can often begin with one action from a single person. One of the students from the Girls Program approached Sreedevi and asked if she would read with her. Soon, six other girls surrounded Sreedevi, wanting to know what was going on. They want to practice reading English too!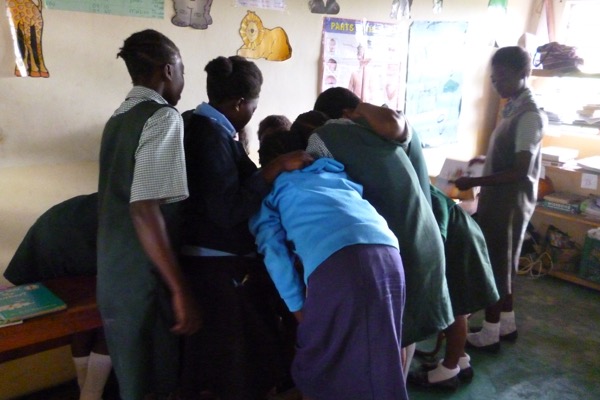 Sreedevi surrounded by girls wanting to learn!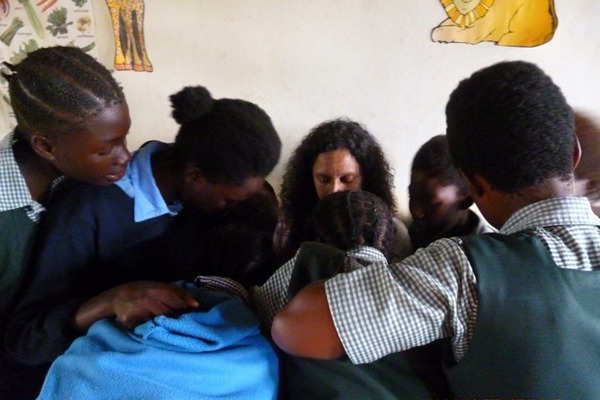 Sreedevi reading to the girls and the girls following along, asking questions
While teachers are teaching and students are eating and learning, others are caring for the property. Weeds need to be pulled and a fence needs to be repaired and built.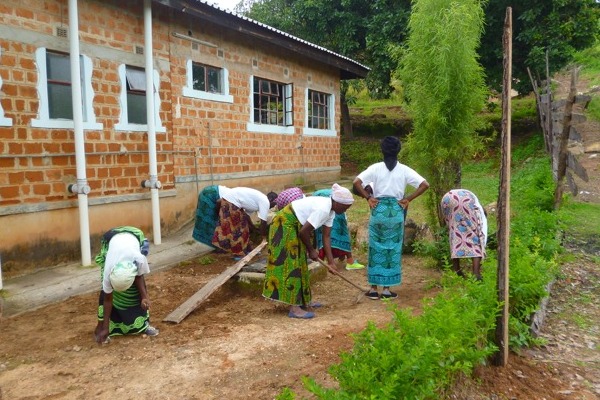 Some of the women steadily and very efficiently clear the weeds.
Nothing is wasted in Zambia. In the U.S., when milling lumber, the outside of the tree is often discarded or turned into mulch. Here it used for the fence siding.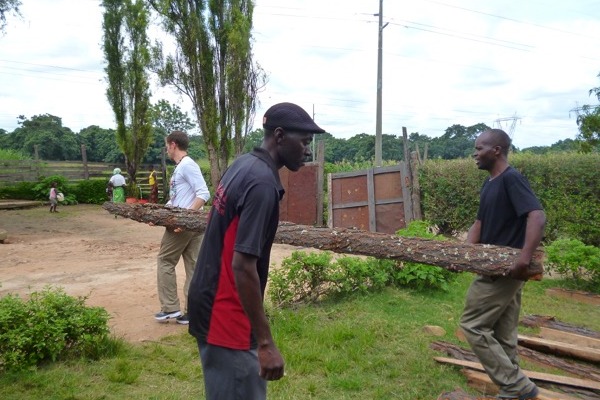 Scott and Elias carry one the fence siding pieces. Peter looks to grab another.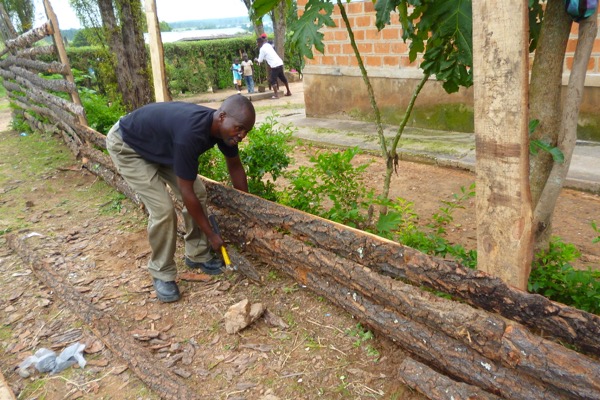 Elias lines up the fence siding.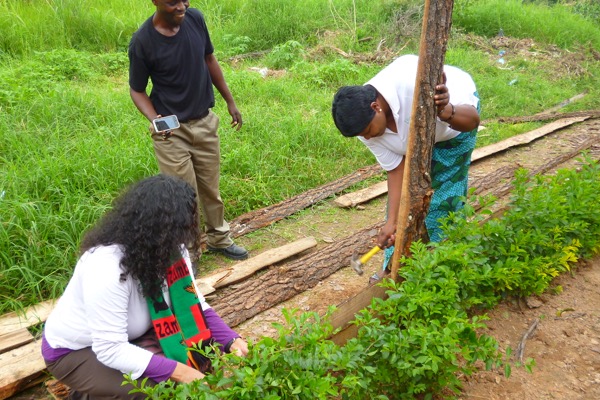 Sreedevi and Theresa get into the action.
Next, we had a meeting with some of the teachers to review the files kept on each of the 37 girls in the Girls Program. Although this was not news, we saw first-hand that many students are struggling to pass their tests. The tests, of course, are all in English. It was clear by the student's answers that they did not comprehend the questions. It's hard to demonstrate the knowledge you have if you are not fluent in the language in which the test is written!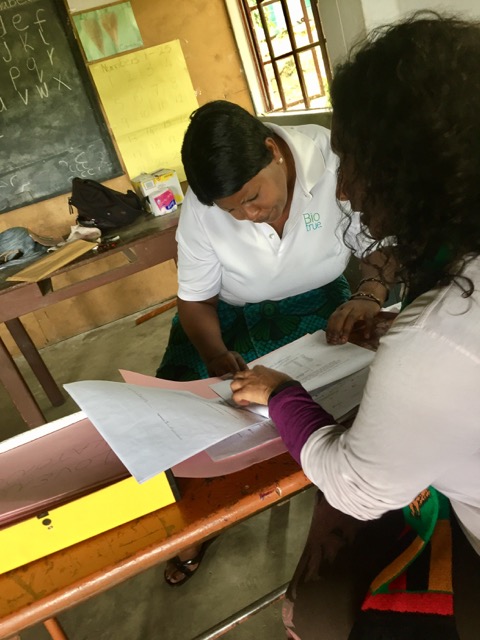 Theresa and Sreedevi gathering clues on our approach going forward
In speaking with the teachers about this issue, Ethel underlined the importance of continuing with English as the focus—literacy (reading and writing English) and language (speaking and comprehending English). English is the language of both formal education and commerce in Zambia, making it an essential component to the pathway out of the cycle of poverty.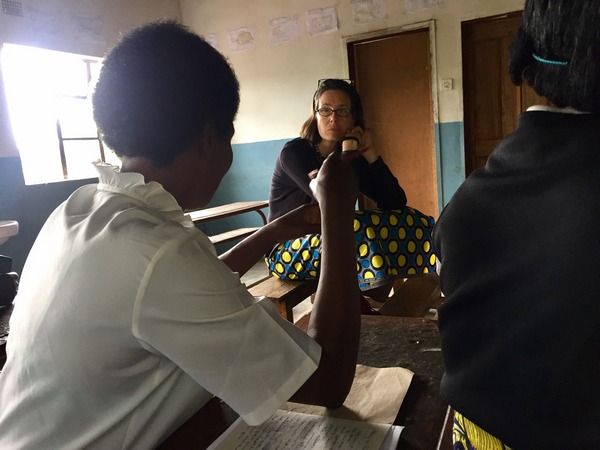 Ethel articulates her point while Jen listens intently.
Currently, we have a "culture of language" demonstrated by teachers endeavoring to only speak English to one another and students engaging visitors. "Hello," "What is your name?" "How are you?" "I am fine" are used by even the youngest preschool students. And what is clear is that many students can't read English, at least not well. Yes! Time to build on what we have and begin a "culture of literacy!"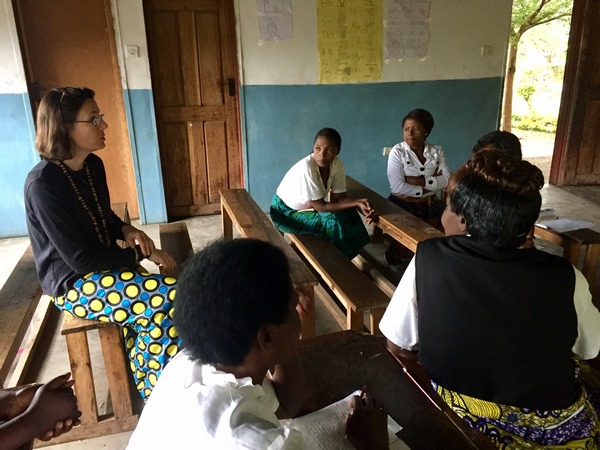 Jen and the teachers discussing the "how" of a culture of literacy
It was fun to see that literacy is already happening as we interacted with dozens of students and teachers about their word of the day. There were some great ones! Obscure, exacerbate, fluffy, happy, morose…! These are all coming from books folks are reading (yes, the big ones are coming from staff!).
Our bemba words today:
Uluchelo- morning
Itolosi- trousers
Imfula- rain
Many of the boys in the commuity are eager to meet and talk with Scott.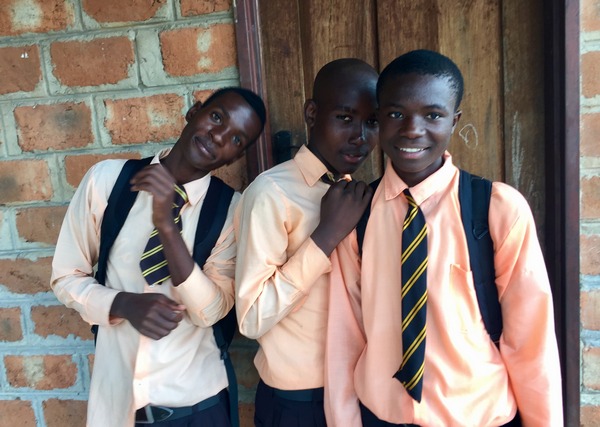 Henry - grade 12, Osric - grade 11, and Leonard - grade 10. What a pose!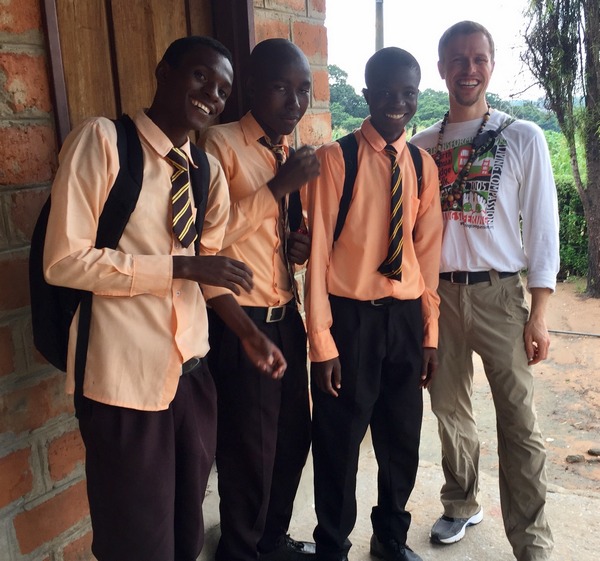 The guys and Scott
After most of the students and teachers had left, a few of us sat down to look at the successes of the day and lay out the game plan for tomorrow. There were many – girls initiating with an adult, both speaking and reading in English; teachers and students participating in the "word for the day;" a team meeting that brought clarity and direction; weeds cleared and a fence built! Oh, and did we mention 1000 children were fed? Go Living Compassion Team! (That includes you, as it clearly takes everyone!)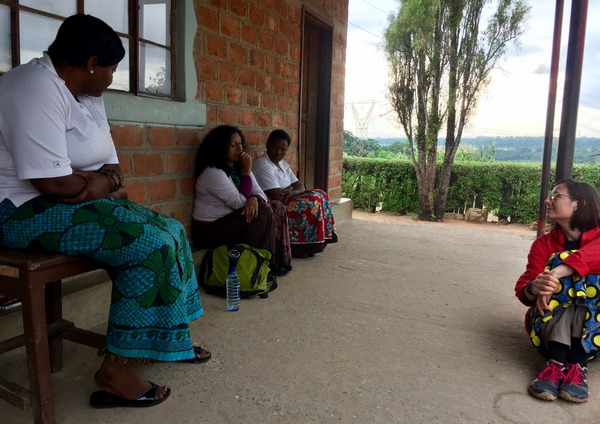 Wrapping up the day on the porch of the Living Compassion building
As we got our bags to leave, this butterfly seemed to exemplify the growth and transformation this program continues to bring. So much to be grateful for!