Today is our last day in Kantolomba – we can't believe it is already here! Time moves so quickly, and we still had many things to accomplish. So, after our morning check in with Theresa at the lodge, it was time to head out.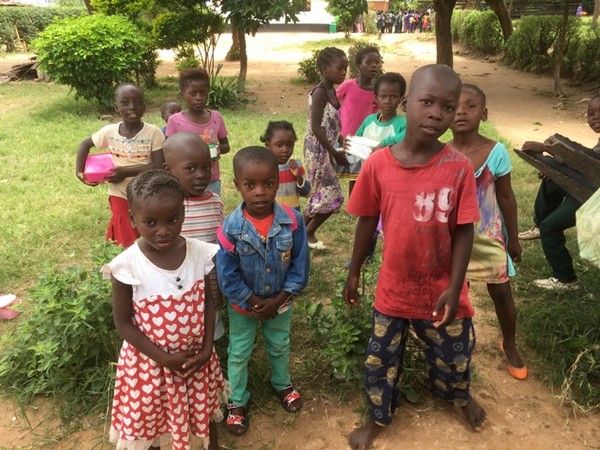 We are going to miss these faces greeting us every morning!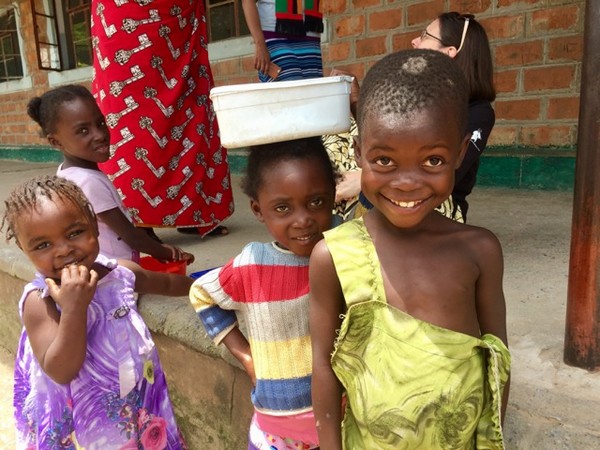 Ok, that smile is just precious!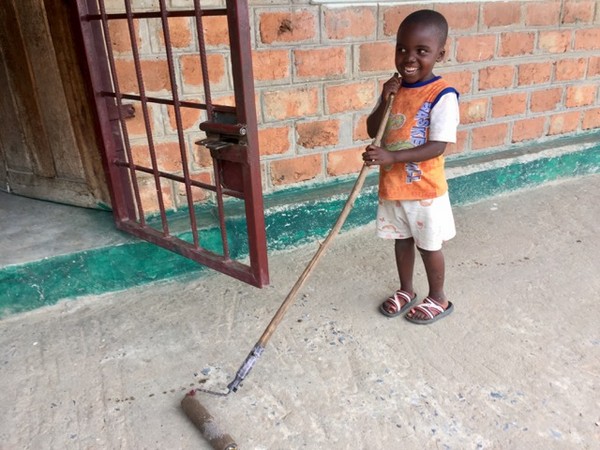 This little guy was having the best time with this paint roller.
As you've seen in previous blogs on this trip, technology testing factored into many of our days. The access to wireless internet is a game changer, and before we left we wanted to test again our ability to Skype at the Living Compassion property. We were successful with multiple people on a group video chat! Theresa stayed indoors while Scott and Jen roved around outside. Very quickly, we had some visitors who were curious about what all the commotion was about.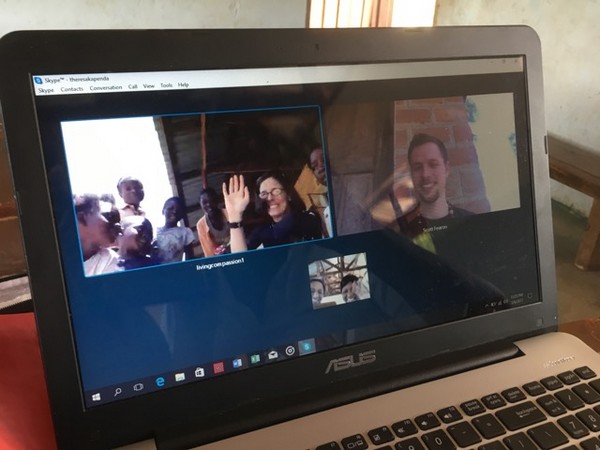 Three screen success!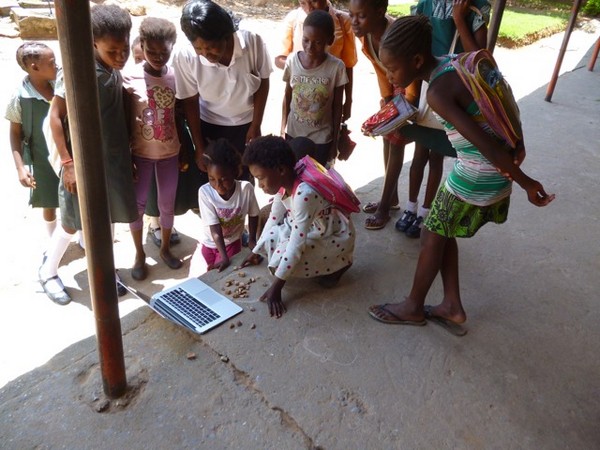 The girls checking out Skype
Next, it was time to meet with the teachers in the Girls Program to review the transition plan from large classes taught by several teachers to our small group approach, where 1 teacher would have 5 students. We also needed to discuss picking one more girl for the program, as we had one more spot available. This led to an interesting conversation about how we choose each girl in the program – what are all the factors that contribute? Family situation, financial need, current educational progress…there is a lot to be considered! One recommendation was to create a process whereby Theresa and members of the team would interview each girl and her family prior to her joining the program. They could explain the program, the commitment level, the guidelines, and get to know the girl more to make sure the fit is good.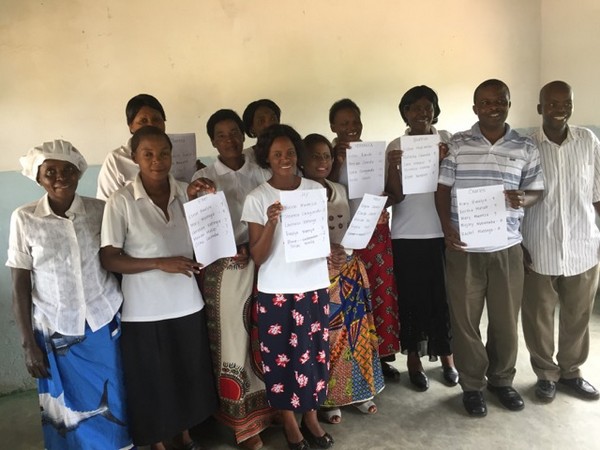 Our teachers! The new additions to the team are Elias and Ann, who will be working in the library in the afternoon.
We were hoping to then break into the groups for a trial run, but it is already 13:00 and today we had some major business to attend to – in the form of bank representatives from FNB coming out to the property. We are taking an exciting new step in facilitating the opening of individual bank accounts for each cooperative member. This will assist with safety (much safer to move money around electronically than wads of cash in one's pocket!) as well as give cooperative members who choose to the opportunity to start saving. Very fun!
This seemed impossible at first (proximity to the bank, some folks not knowing how to read, and bank fees eating up too much income), but after speaking with Matthew, a representative from FNB, we discovered a solution that works very well!
FNB offered to come out to Kantolomba to sign everyone up, and Martha, our accountant, joined the team to assist the process and make sure all key points were covered.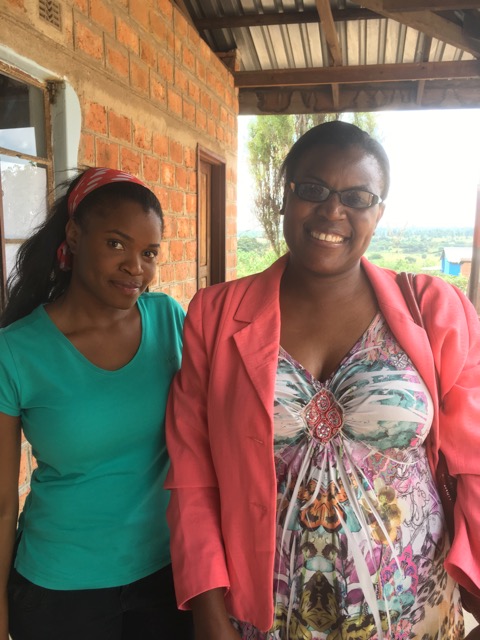 Martha and her daughter Jessie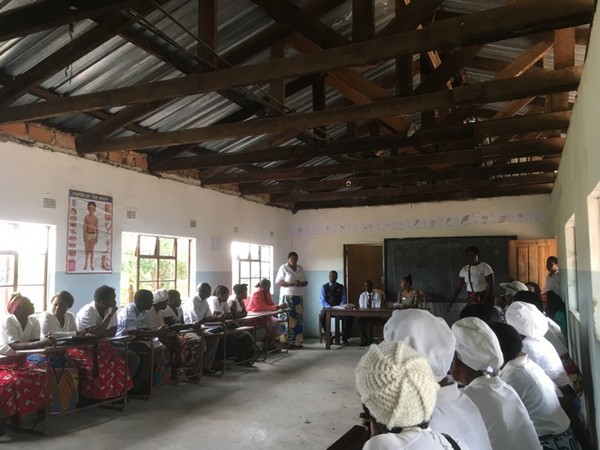 The team listening to how the accounts will work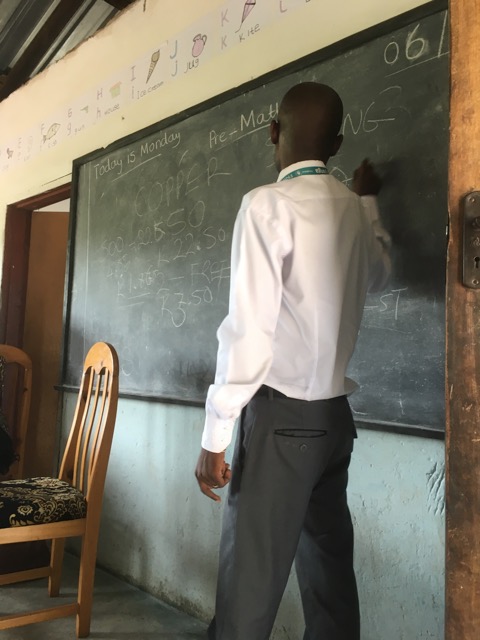 Matthew did an excellent job explaining the ins and outs of the process.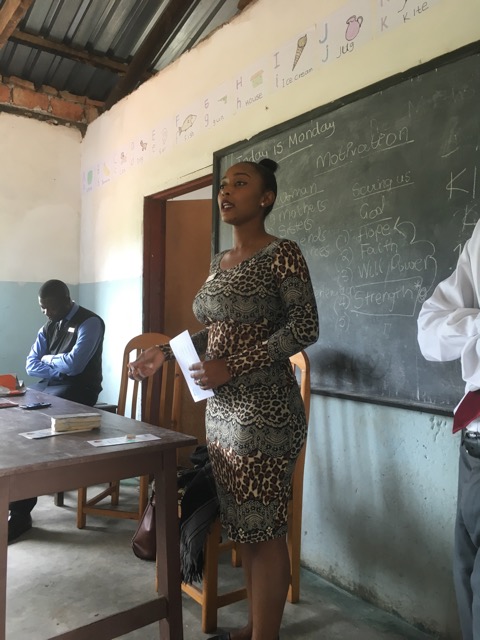 It was exciting to have a female bank officer as part of the team. Along with assisting the team to sign up, she also gave a motivational speech to the women of the team about having a vision for their future, along with their daughters and granddaughters.
While the teachers were occupied, we had a special treat for the girls. Martha's daughter Jessie had joined us for the day, and she spoke with the girls about how to stay focused on their studies. Many of the girls asked questions. One in particular that struck us was Esnat, who shared that she doesn't like asking for help in school sometimes because some of her female classmates make fun of her. Jessie spoke to her about the importance of surrounding yourself with friends who are supportive, and not to listen to those other girls. We also talked about how Phiona, in the "Queen of Katwe" film, was also made fun of in the beginning, but she stuck with it and didn't allow negative comments to deter her.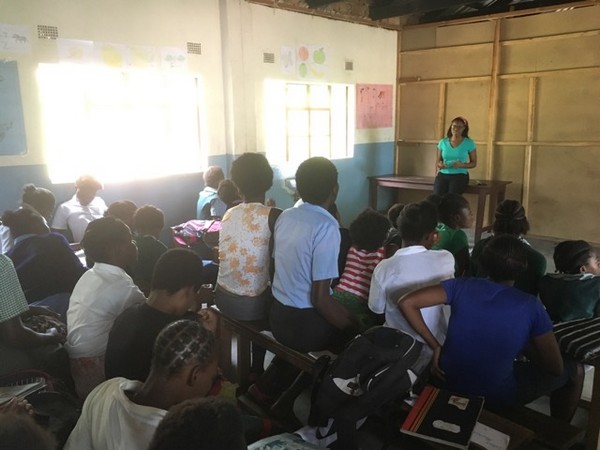 Jessie speaking to the girls
After a great conversation with Jessie, it was time for the groups to meet! We weren't sure we could pull this off on our last day in Kantolomba, but in the beautiful way life works, it all came together. We got goosebumps walking around seeing the level of individual attention they were receiving working in these small groups with their teachers.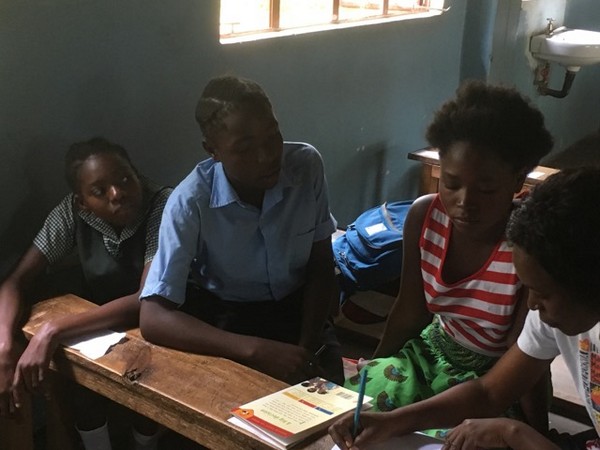 Joy with her group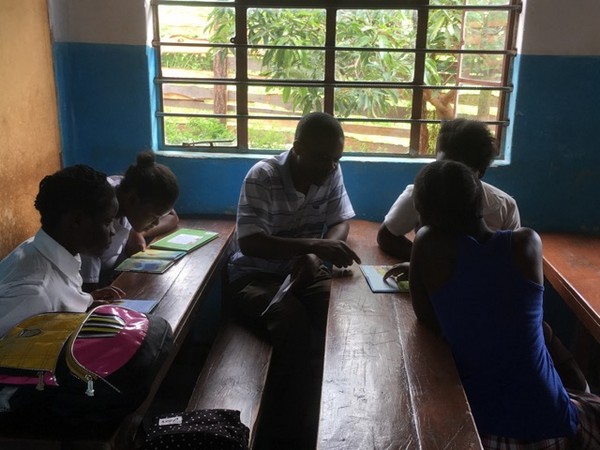 Charles working with his group on English reading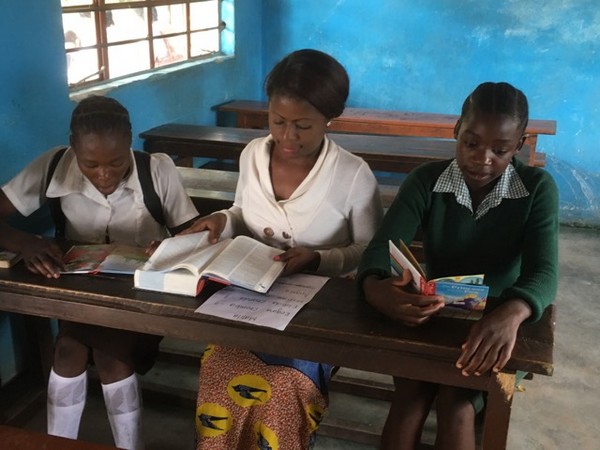 Malila looking up a word in the dictionary to help her students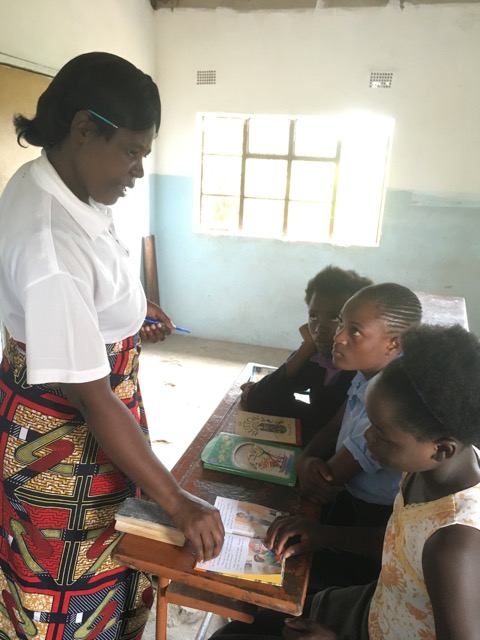 Beatrice explaining to her girls that they will be learning how to read English better and also improve their comprehension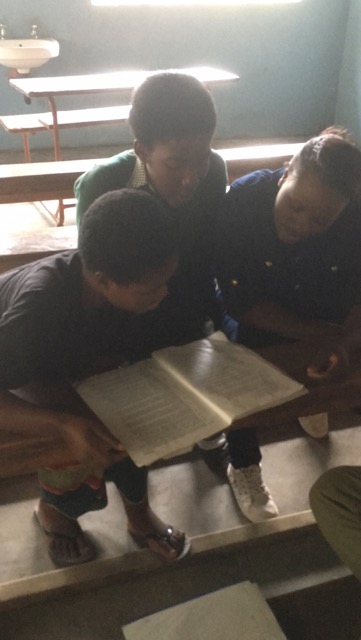 Memory also joined us today! Here she is working with Joyce and the other Memory.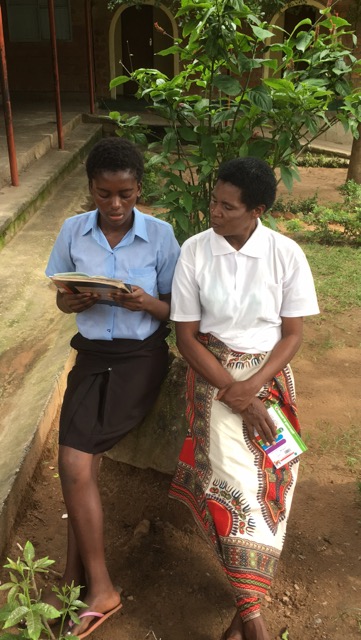 Since one of the classrooms was being used for the bank meeting, Ethel took her class outside to read. Theresa joked with Ethel that her class would be just like this radio program they listened to when they were young. Apparently, this was one of those programs that everyone in the community listened to! Their radios were powered by batteries because they didn't have electricity, and if the batteries ran low they would put them in the sun or hit them on the table (that apparently worked!). If they missed the show, they would ask their neighbors what they missed. It was fun to watch them delight in reminiscing about this shared childhood experience.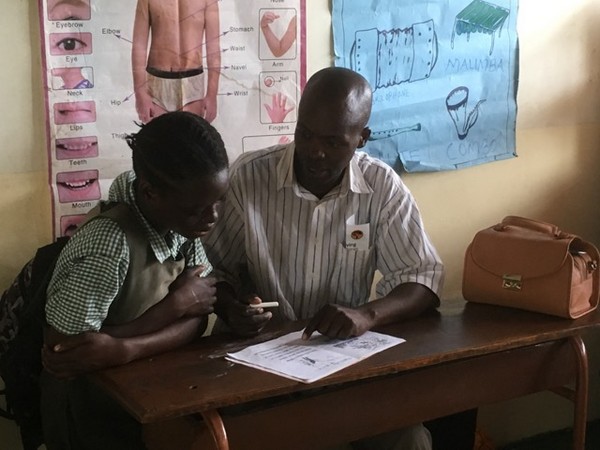 This young lady came to the library to get help with her comprehension. She can read, but she doesn't understand what she's reading, and that was very frustrating for her, so she asked Elias for help.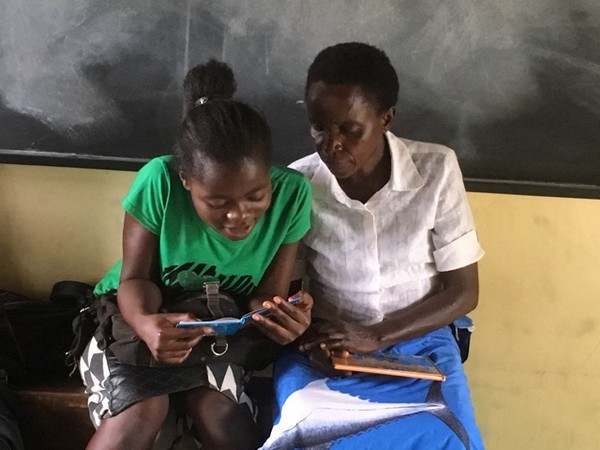 Ann, hard at work on her first day!
As many of you know, the last day in Kantolomba is a bittersweet goodbye. We are grateful for the time we were able to spend, and sad to go. However, there is a lot of joy on this last day, as dancing is a requirement!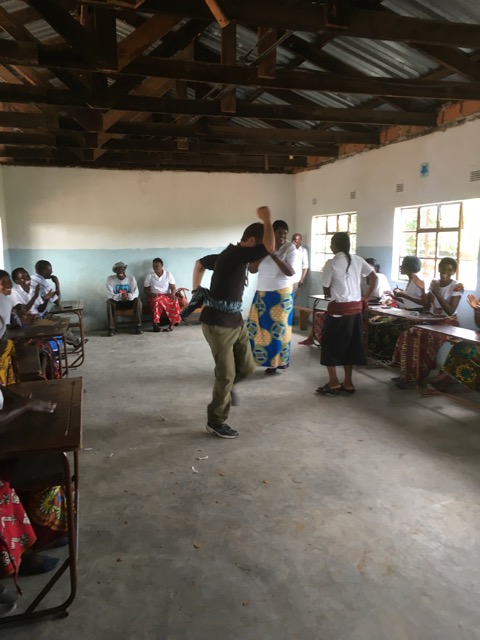 Scott was first up in the dancing.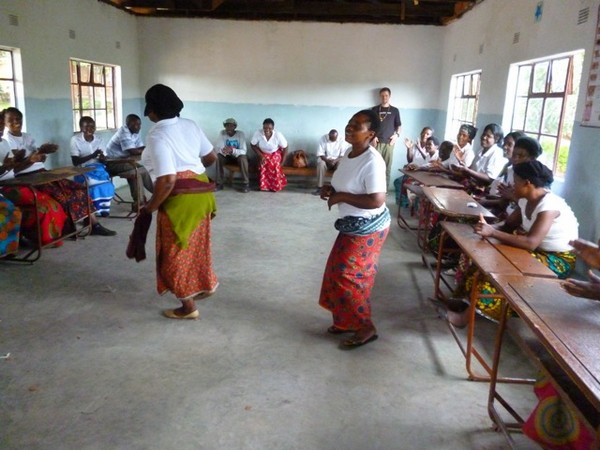 Brenda joined in the fun!
With our last goodbyes said, several hugs given, and of course, the beautiful goodbye song still echoing, it was time to head back to the lodge and prepare for the journey home tomorrow.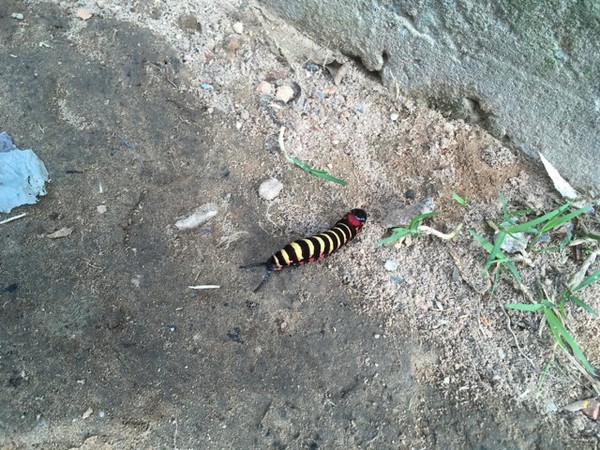 We spied this caterpillar on the property grounds. It turns out there were several of them all around, making their way up and down a tree on the property!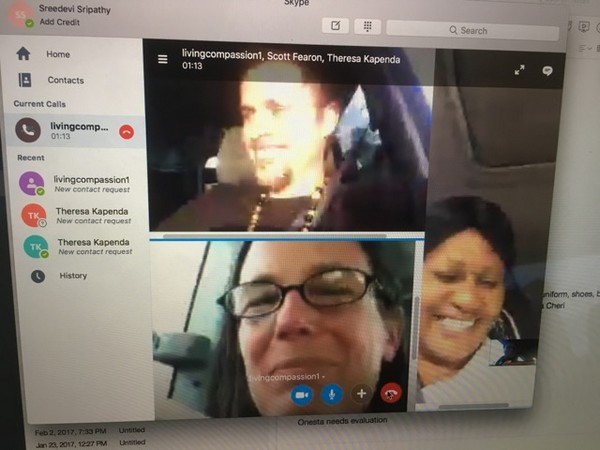 Knowing it is MUCH easier to assist with technology when we are physically together, we had one more Skype video practice when we got back to the lodge. This time all four us were on separate screens!!!