Going to Kantolomba on Sunday is new. Your generous donations have enabled us to serve meals to the kids seven days a week, letting us meet yet again with the Girls Program and some of the teachers. While we waited for the girls to finish eating, we tackled some of the trip's remaining agenda items.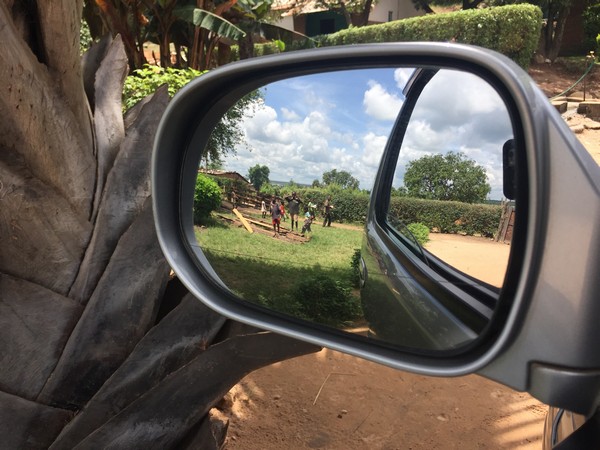 A view from our team meeting in the van.
Several children hung around the van, waiting to see if we would play. We couldn't resist a game of chase.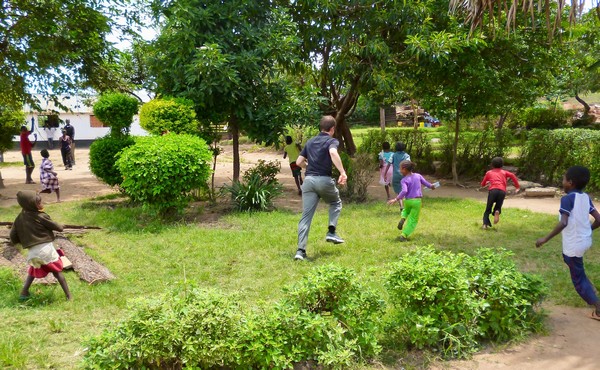 Laughter and squeals of delight indicate the "chase game" is cross-cultural fun!
When we came to see if everyone had arrived for our Sunday meeting, we found girls using the time to read in front of the group. Always an opportunity to practice!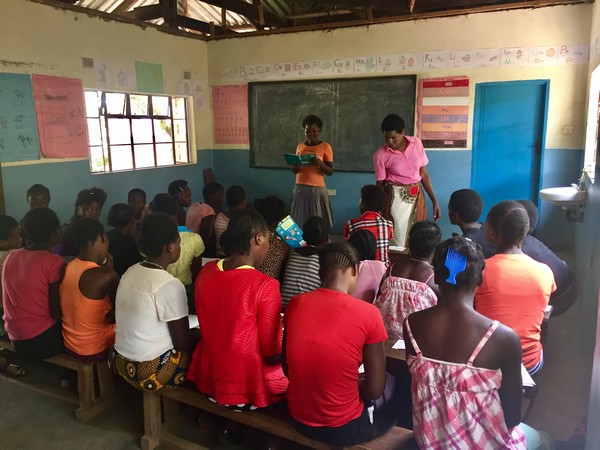 Practicing reading and listening to English. It seems that vibrancy is not just in the colors of the clothing, but in the learning as well!
Theresa started with their weekly review of the main agreements of the Girls Program. Then she introduced the new agreement that students must demonstrate improvement in academic performance. As we explained the change, it seemed clear this is the right next step. Over the past year, the girls demonstrated ability to follow certain behaviors and to show up to the program consistently. Now it is time to up their game with academic progress. The program will do its part through the new pod structure of classes of five to six students, providing these girls with much more individual attention. Teachers are taking on the responsibility of tracking each girl closely, as if they were their own children (which in many ways they are.) Seems everyone is asked to up their game. Maybe Sangha will get its assignment next!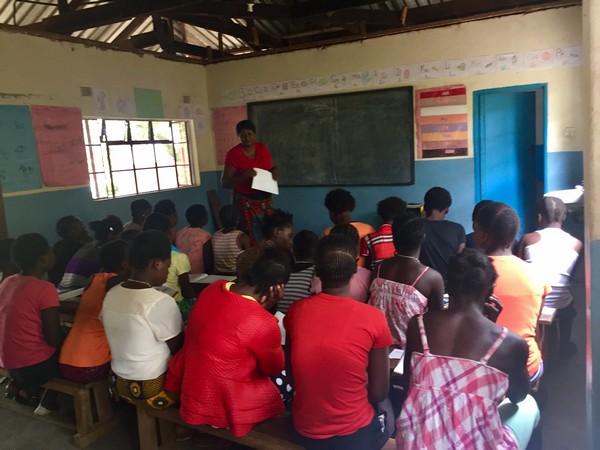 In her direct and graceful style, Theresa explains the new academic agreement.
Following the meeting, we split into small groups to discuss the movie we watched yesterday, "Queen of Katwe." In one group, which had many of the higher level readers, the girls used words and phrases like "inspiration," "encouragement," "finding the driving force," and "learning methods to overcome poverty," relating the events of the movie to their lives. They also discussed the challenges they face in the community, including negativity and jealousy from neighbors and friends; and more practical difficulties, like not having a light source at night. (Most households do not have electricity). They related to how the main character used a paraffin lamp to read at night until the mother told her to blow it out because, like all resources, they are very limited. We discussed how talking to each other about these kinds of things can lead to supporting one another to find candles or another safe light source! Later in the day, after hearing this story, one of the team members described the process as an outward spiral. The girls receive academic support to improve their English abilities to an extent that they can fully express themselves. In this case, their clear articulation (in English) has elicited more support. More support leads to more well-being and further learning and improved English, which leads to more opportunities. This is one of those spirals we want to keep going, yes? (And we apologize for not taking any pictures of the break out groups. We were so engaged in the discussions, we completely lost track of that job!)
Everyone left for home about mid-afternoon, and our team went back to the lodge for "Holy Leisure." We leave you with pictures of our friends from earlier in the day.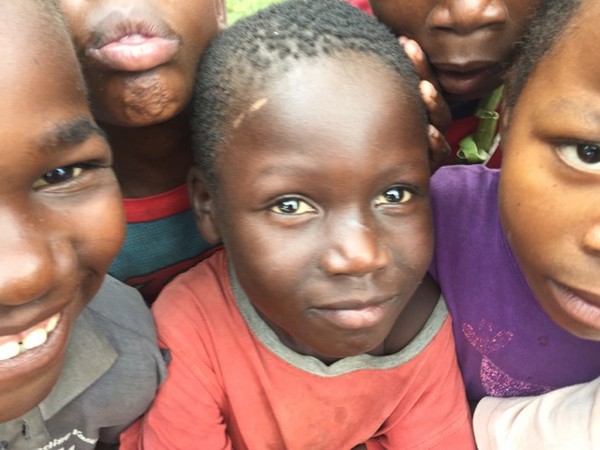 A soulful look.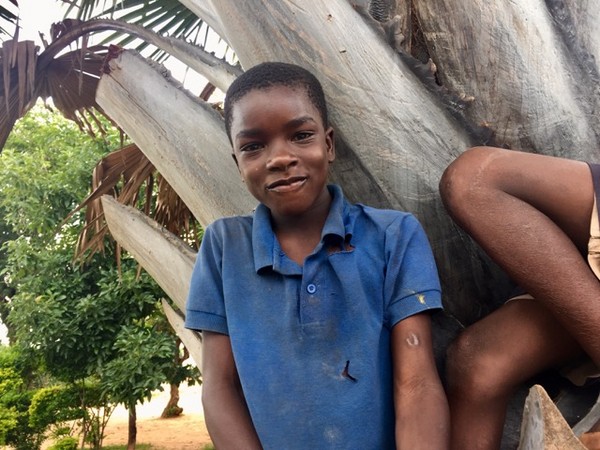 Resting in the tree with his friends.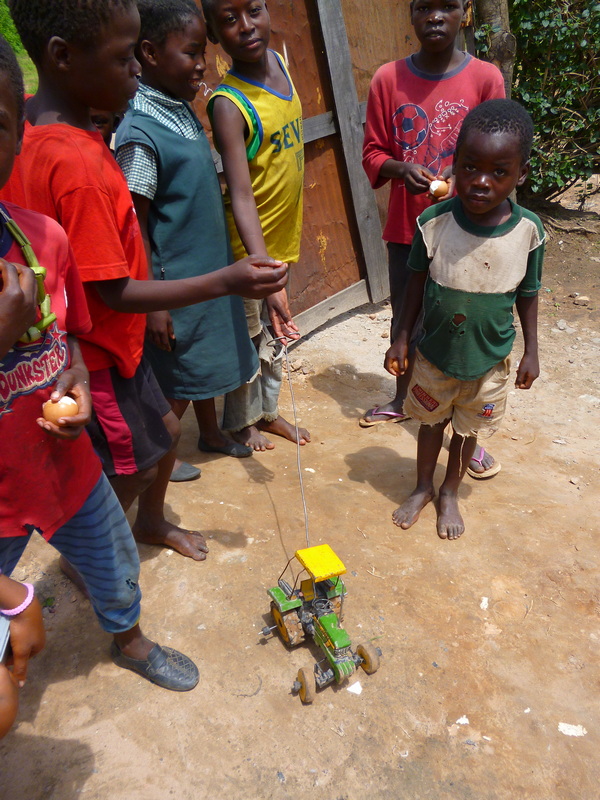 Store-bought toys are practically nonexistent in Kantolomba. Seems this fellow acquired a broken toy tractor and then refurbished it! What resourcefulness and creativity!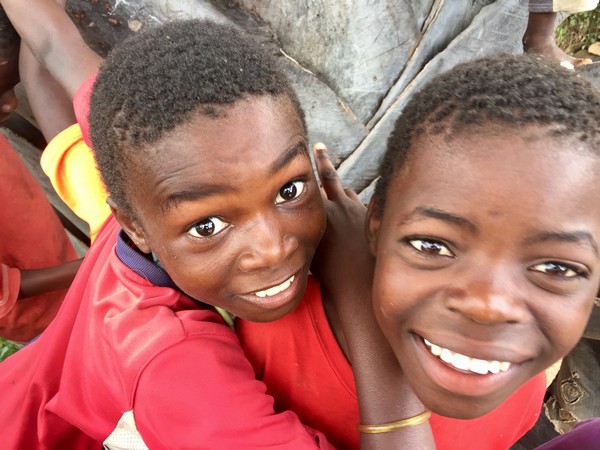 Despite the circumstances, the smiles keep coming. Makes one want to relinquish all complaints and grievances with the world and in live in happiness instead. What an inspiration for us all!