Tuesday began as another bright, sunny and hot day in Ndola.
Our activities started with opening a new bank account. First stop – getting passport photos, which are a requirement. We had a sense that opening a new bank account would be a process. It was. Martha, our accountant here, made it as painless as possible, filling out all the official forms, typing up the many documents needed and simply walking us through signing on each of the dotted lines.
It is lovely when practice pays off in practical ways and we had some quality meditation time waiting at the bank.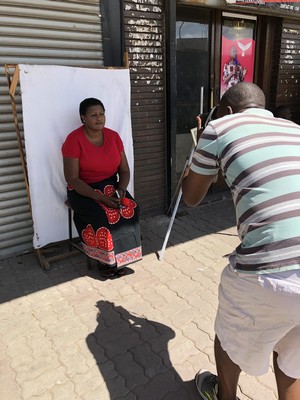 The last hurdle before taking all of our forms to the bank was passport photos.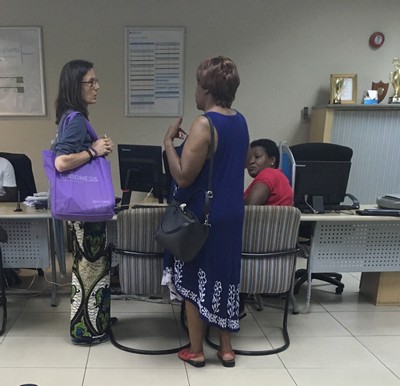 Jen, Theresa and Martha filling out the last forms
After attending to more errands downtown, we made a brief stop back at the lodge for lunch (cauliflower casserole and cheese sandwiches!), and then to Kantolomba.
Upon arrival at the property, we were delighted to find an impromptu biology lesson underway in one of the classrooms. Sofia, grade 12, was writing questions on the board for Esther, grade 9, to answer. A handful of other girls were participating from the side. Let's take a moment to say that again – our girls were in a classroom reviewing biology. WOW. This is the first time that we've seen an educational review, led by the girls!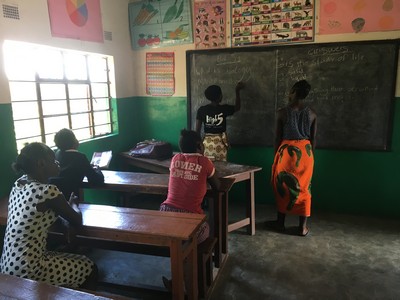 Sofia and Esther review biology questions and answers.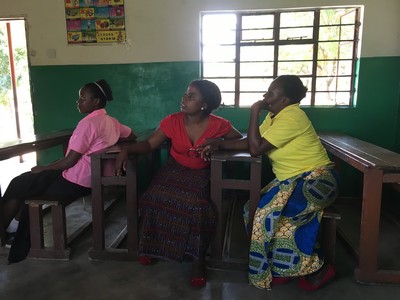 Memory and Malila, two of our teachers, observe and assist the girls.
Jen, Theresa and Veronica went off to the local clinic. Since the last time we were here, USAID has built a clinic in Kantolomba. This is a blessing. It used to be that folks had to walk a long distance to the closest medical care and would have to push loved ones in a wheelbarrow when they were too sick to walk. This new clinic is a three-minute walk from the Living Compassion property.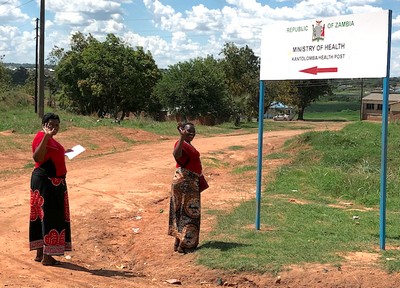 Theresa and Veronica both need to carefully watch their blood pressure and were going to have it checked as a routine procedure.
It's very clean (and empty)! We're told the mornings are the busy hours.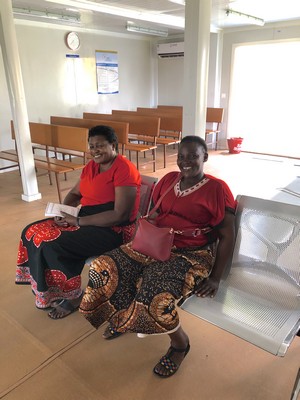 Patiently waiting
Jen took the opportunity to talk with the nurses at the clinic. With our oldest students now graduating from high school and entering college, it won't be long before they will need career support. Everywhere we go we are talking with people about their jobs—how they got there, what is their educational background, etc.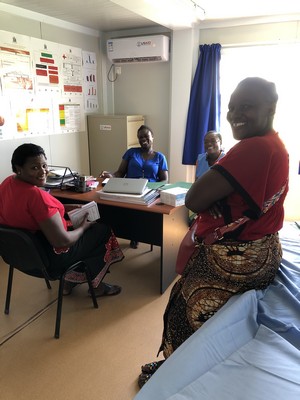 Talking with the nurses. Kayela and Happiness!
It's been on our list to talk with Bertha Mutale. Bertha is 21 years old and in grade 9. She has repeated Grade 9 four times, and has been unable to pass her Grade 9 exam, primarily because she still struggles with her English. This year, instead of taking her Grade 9 exams again, she told Theresa that she wants to study more and then try again next year.
Hearing Bertha's story is inspiring. Here is someone who at any point could have said, "That's it. I'm done." But no, Bertha is determined. It was clear to us that she knows the life she wants to have, and the life she does not want to have. Given that, we decided to speak with Anne about working with Bertha on improving her English language skills. She readily agreed.
Theresa and Anne discuss Bertha's situation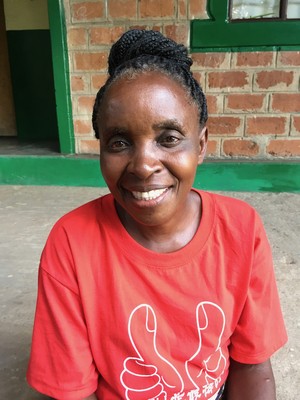 We are so excited to work with Anne in this way, and she is too.
After making the daily video for the 2018 Bridge Walk campaign profiling one of the teams, it was time to head back to the lodge for more strategizing and blogging!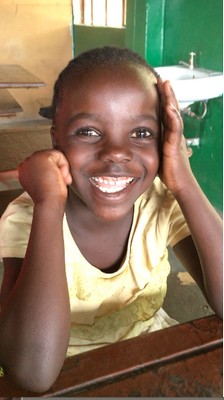 Edna, one of our bright pre-schoolers – smiling before we roll tape on our "Team A Good Start" video
At the Bridge Walk celebration last Friday, Perseverance, one of Beatrice's older sons, was prodigiously taking photos. The combinations were endless as each cooperative member called to him, "I want my photo with Mama Cheri; now with Sreedevi… Now I want to take a photo with all my children and Jen, now Ashwini…"
Today the prints began to appear. Quite fun.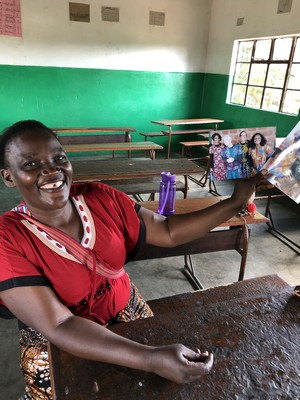 Veronica shares two of the prints she got: the four of us in our chitenge outfits given to us by the cooperative, and one of her and Sreedevi.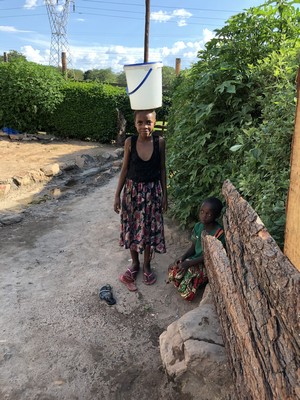 Little Cheri with a very heavy water bucket on her head, preparing to head home.

There finally exists the technological capacity to show the true beauty of the property.