Today was another big day.
First off was a trip to the Franciscan Friary. This is where we stayed during our first trips to Zambia as guests of Brother John Kapenda. It was meeting John's sister Theresa on our second trip to Zambia that launched the project in Kantolomba.
One of our long-term visions for the project is to write books that feature scenes, themes and context relevant to children in Kantolomba. We remembered that the Friary had a printing press and decided to investigate the possibility of having the books printed locally.
It turns out that we can! They have a state-of-the-art facility where thousands of books are printed every month. From magazines to text books to novels to children's books, they print it all. It was lovely to reconnect with Brother Camillo, a friar we met 13 years ago. He is originally from Italy and has been a friar in Ndola since 1977.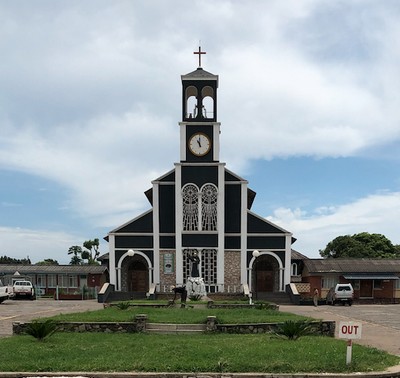 The beautiful church at the Friary.
We discovered that the Friary also houses a skills training center. We recalled a talented group of tailoring students there who crafted our first chitenge pants and skirts.
While some of the girls in the Living Compassion Girls Program will follow in the footsteps of Silvia and Mirriam and go on to college after grade 12, there will also be some who are more suited to learn a skill. And perhaps the Friary would be an option for some of our girls?
We were blown away.
The first room we walked into was a tailoring shop. The students were working diligently, very focused on their creations. Apparently they were taking their final exams. There were 12-16 work benches, each fully equipped with good, functional tools—sewing machines, measuring sticks, pins, cloth and more. We were greeted by Gladys, who runs the sewing program. After introducing ourselves and sharing information about our program, she took us over to meet the Director, who unfortunately wasn't there. However, luckily for us, we got to meet an extraordinary gentleman named Jeff Kaluba, the training director for the centre.
Jeff immediately welcomed us and told us about the program, the costs, the requirements. The centre has four programs: Carpentry, Tailoring, Catering and Computers. The vision and mission of the program is to support disadvantaged youth and women and help them find a sustainable living through a skill. When we shared that our girls were at different educational levels, he said they serve all levels. Yes!!! Then came the really great news: they aren't just a trade school that teaches a skill, they also teach speaking, communication, entrepreneurship, marketing and general business skills as part of their curriculum. And they try to find employment for their students after the program where possible. Wow!
It was clear to us that they approach the program from a holistic perspective. It's not enough to teach the skill, they want to support the students to know how to leverage that skill into a sustainable life.
Jeff then took us on a tour of the property to observe the various programs and facilities. Impressive!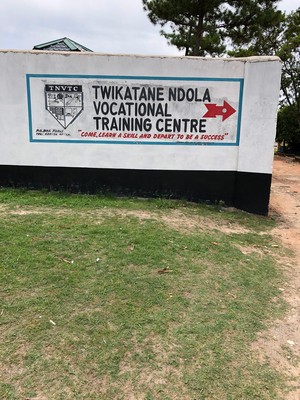 Follow the yellow brick road (that's what it felt like!).
Our first stop – the tailoring shop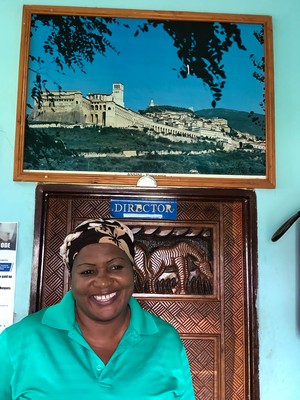 A full circle moment. Above the Director's office door, a picture of Assisi, where it all started.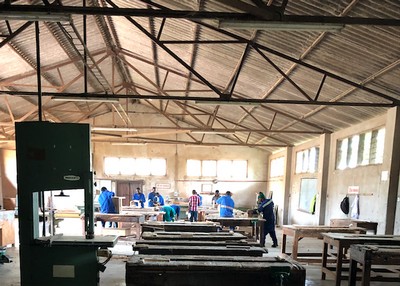 The carpentry shop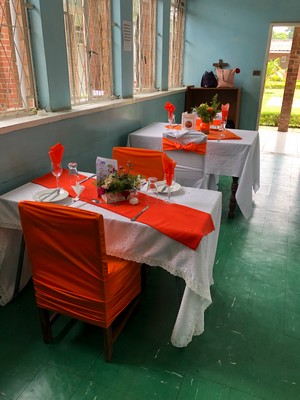 In the catering program, they have a "restaurant" where the students learn how to cook and serve meals. Each student has her own table.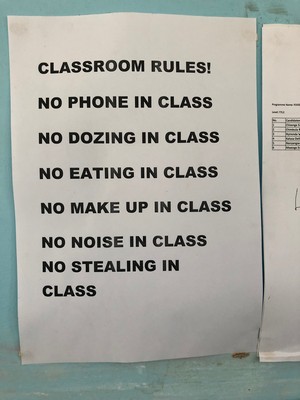 The rules the students must follow – looks like a good list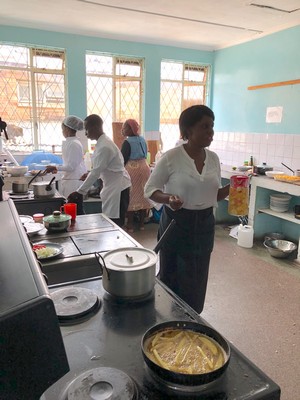 Cooking 101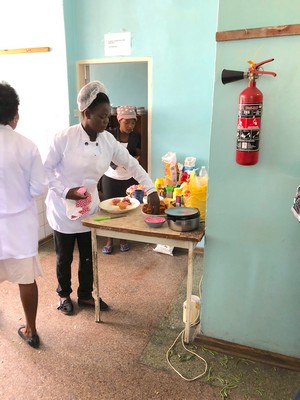 The dessert prep area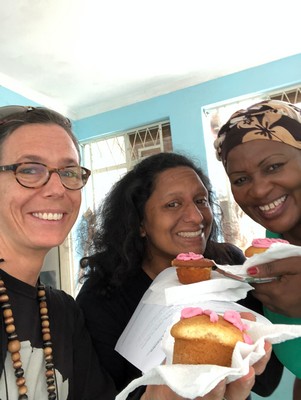 We commented on the beautiful cupcakes being frosted in the kitchen and Jeff soon handed one to each of us.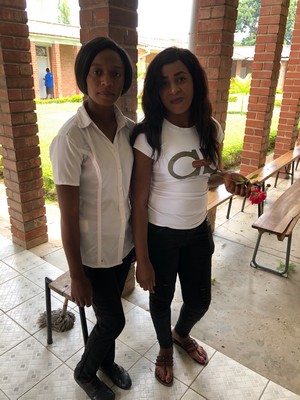 Memory and Loveness, two catering students, told us they love it here and have learned a lot.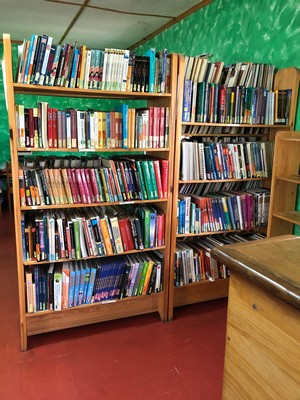 The beautiful library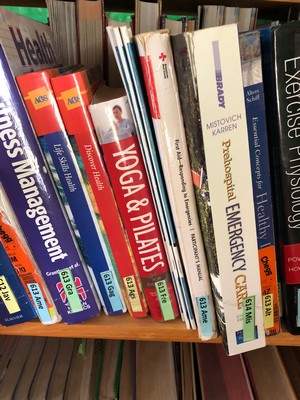 A good variety of books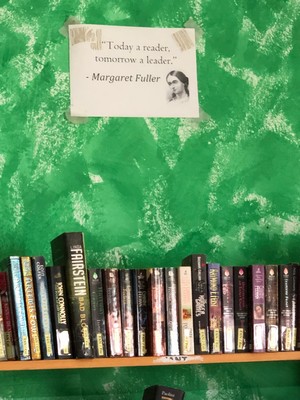 Well, this just says it all.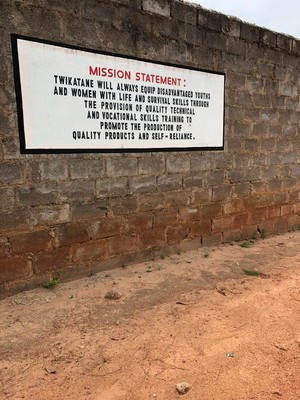 How wonderful to find a place whose values align with what we're going for.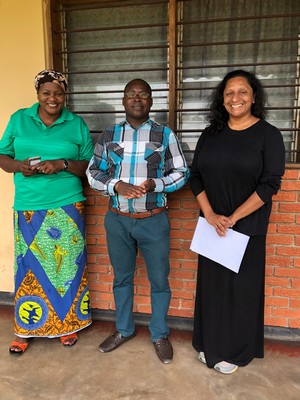 The wonderful Jeff Kaluba. He encouraged us to make sure to follow up with an e-mail and stay in touch. We will be!
A few more errands, then we went home to Kantolomba.
Theresa and Veronica went back to the clinic to get their blood pressure checked again. Yesterday the blood pressure machine was not working due to dead batteries. During our errands, Theresa suggested we might pick up 4 AA batteries as our contribution to the clinic. "I think we will be showing them the heart for community." Great idea! They were thrilled, and Theresa and Veronica got their blood pressure readings—win-win.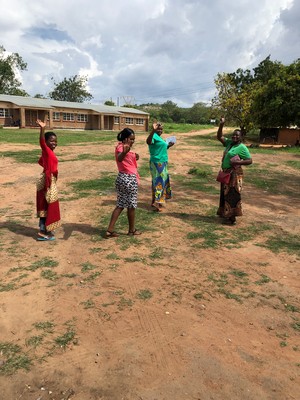 Esther and Rachel went along with Theresa and Veronica to the clinic.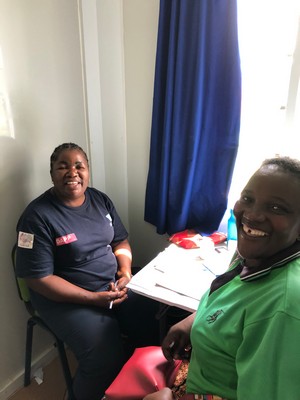 Veronica is being a good patient.
While that was happening, Sreedevi was researching and testing English language learning software. There are a lot of programs out there, but trying to find one that is a match and speaks to our needs isn't so easy. After trials and more trials, we settled on one and took it for the team to explore. After a little bit of training, they quickly jumped into the lessons. This could definitely help with pronunciation and improving conversational skills.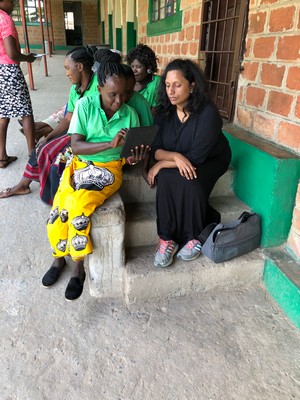 Reviewing the language app with Anne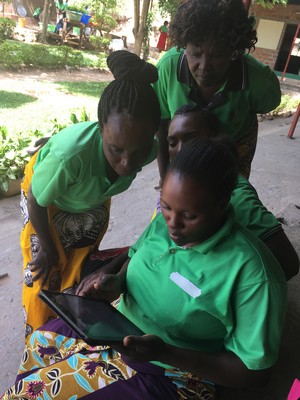 Memory takes a turn at one of the lessons.
As the day started to wind down at the property, it was time to check in about a couple of things. First, we are about to bring a new group of girls into the program and enroll them at Twaabo! Five grade one girls, and ten grade five. We wanted to make sure to review the list, especially the grade one girls, with the pre-school teachers, to ensure we had everyone's input on who they felt would be a good fit. We got the thumbs up. We are all excited to invite these parents and their daughters into the program. This marks a new pilot phase for us—what is possible if a student is immersed in a positive learning environment from the very beginning of their education. We shall find out!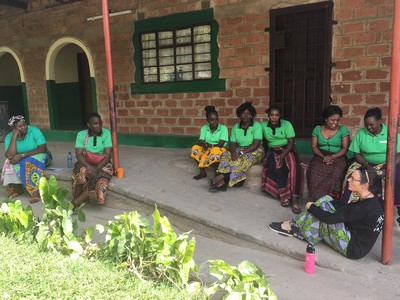 Discussing the list of girls we are going to bring into the program
A homework assignment was given to us by some wonderful Sangha volunteers who are helping with our writing culturally appropriate children's book project: get them to tell stories! Ask folks about a funny thing that happened to them or something scary or their first day of school or… The idea is to collect the detail and texture of everyday life in Zambia that we can use to create engaging stories children will enjoy as they are learning to read.
We had a few quiet minutes with some of the team and started to ask some of those questions. What fun! Theresa told us in detail of how they would play 'house' when they were young. They would gather bottle tops discarded on the road, which would serve as their 'pots.' They would place dirt in some of the pots as mealie meal to cook the nshima. In some of the other pots they would pick blades of grass that would be the 'relish' (the food that you eat with nshima). They would gather twigs to be the charcoal fire. They would then make dolls out of packed mud and get bits of their mothers old, worn out chitenge and strap these 'babies' to their backs. Children are ingenious!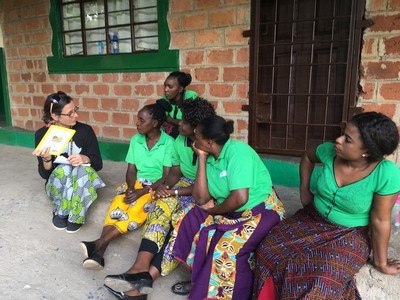 Jen shares the idea behind the books.
Anne, Beatrice and Susan read an example of what one of the books could be like.
We are lucky folks to be passing our time on this planet engaged in this work, with this family.
We made it back to the guesthouse in time to avoid the downpour of a thunderstorm, eat dinner and sit down to catch you up on another glorious day.