Today was a special day.
We set out early this morning to Luanshya with Esther and Rachel to visit the nursing school where they interviewed last week. After their interview, we received feedback that it did not go well. When we spoke to the girls about their experience, we discovered they were unable to field some of the questions on the exam, such as "What does UNICEF stand for?" and "List the five presidents who ran in the last election?" Our girls don't go to town, read newspapers, watch television or listen to radio and aren't exposed to information in a way that would assist them in knowing those answers.
With this information, we felt it was important to visit the nursing school and develop a better understanding of how we could prepare our girls for the interview stage. When we arrived, we found out the Director was not there, however the receptionist was able to connect us to him by phone. Jen explained the situation in Kantolomba, the exposure issue, and that our girls are quite bright but don't necessarily have access to that type of information. The receptionist and the Director then spoke with each other, reviewing the number of spaces that were open and how many students has already accepted seats. They decided they had the space to accept our girls, and offered us the opportunity to have them start the program to see how they would do. They emphasized that it was critical to make sure the girls would study hard and be prepared. We assured them they would.
Esther and Rachel were waiting in the car during this time, unaware of what had happened. As we approached, we handed them their acceptance letters and the smiles on their faces became brighter than the sun.
Road trip to Luanshya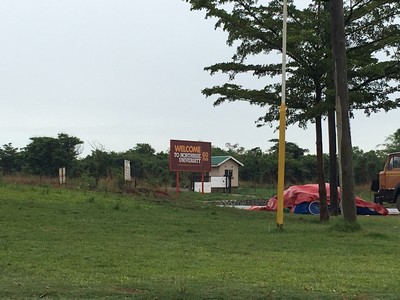 Northrise University is developing a major school in Ndola.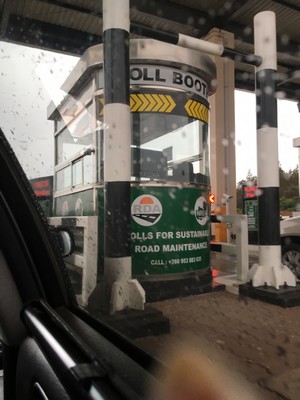 They now have toll booths on the roads.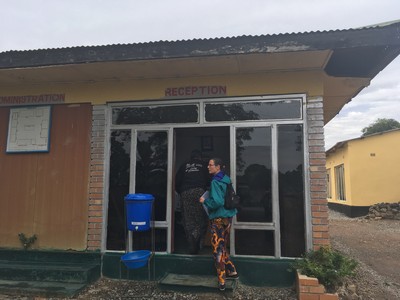 The reception office at the nursing school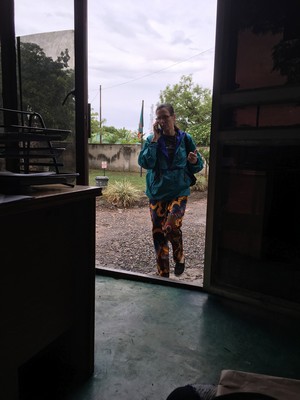 On the phone with the director
Girls reading their letters (they weren't quite sure yet what they were)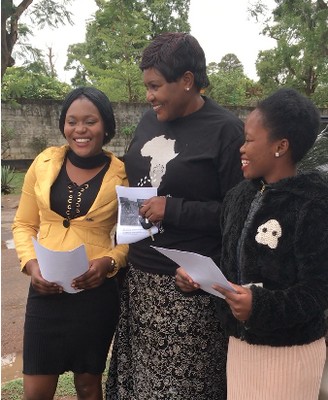 A joyous moment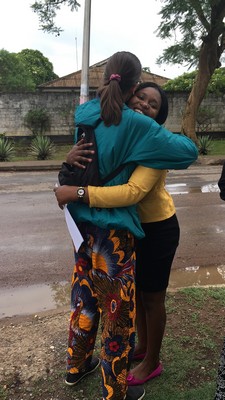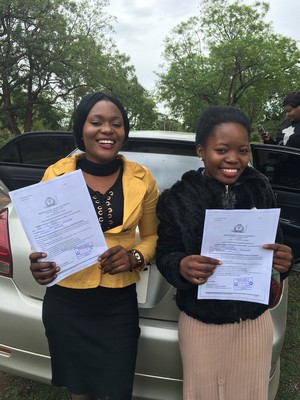 It is official.
We took the opportunity to go by the local boardinghouse where Silvia and Mirriam stay (they are off at their practicum). The rooms accommodate four girls each, so we hope that we are able to have the four of them room together. It would be a great support for all.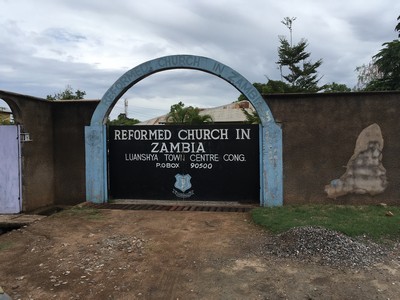 The entrance to the boarding house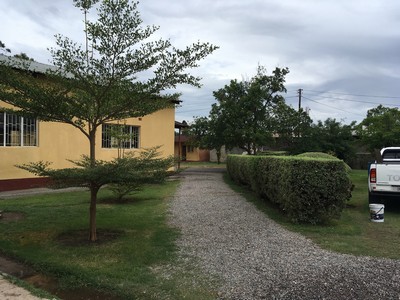 The grounds of the property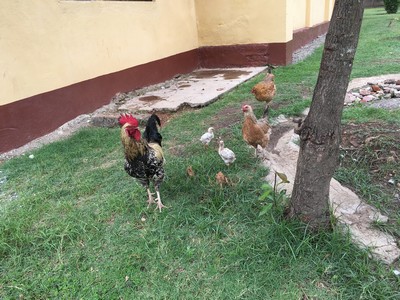 The girls will have some feathery friends.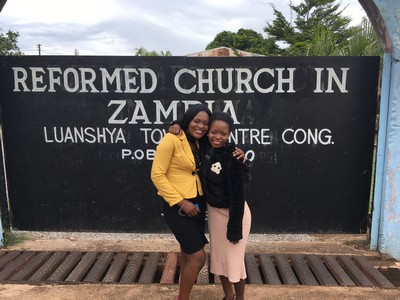 Their future home
We couldn't wait to get back to the property, where word spread quickly. The reception was in true Zambian style, drumming, singing and dancing. The joy was palpable with hugs going around to everyone. We now have four girls in college!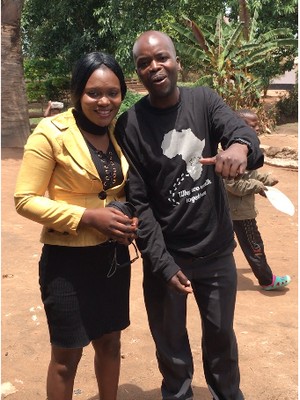 Elias, Esther's father, is delighted at the good news.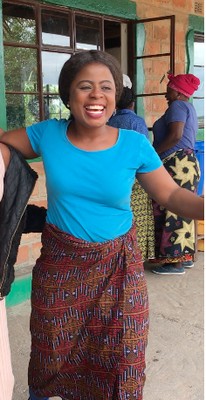 Malila welcomes the girls with a big smile.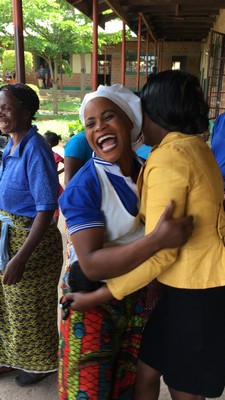 Natasha embodies sympathetic joy.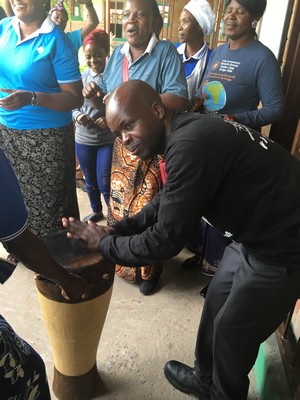 There were many drummers during the celebrating.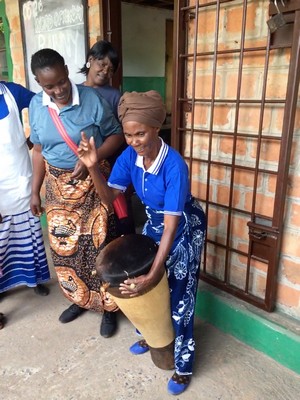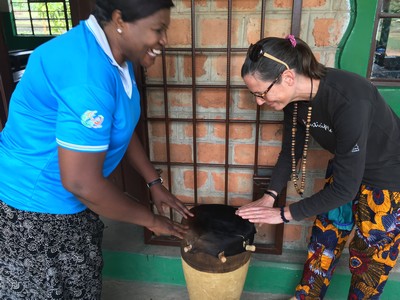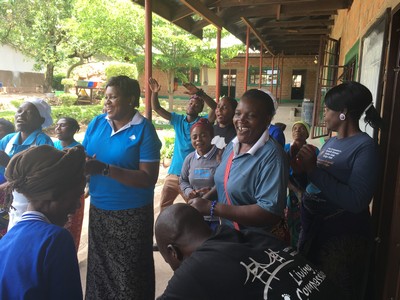 The singing begins.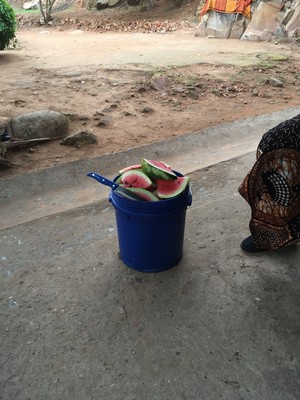 A sweet treat to finish off the celebration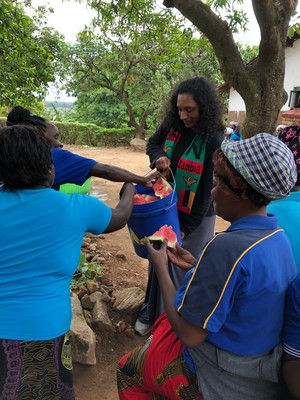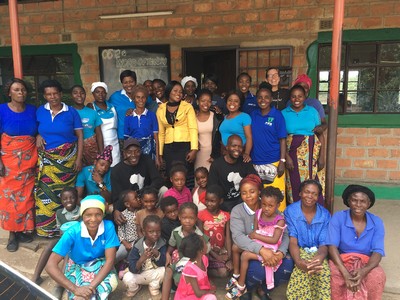 What a team this is.
After celebrating, we turned our attention to the next batch of girls going to private school. As mentioned in previous blogs, the next phase of the Girls Program involves sending 5 girls to Grade One and 10 girls to Grade 5. The girls have been selected and now it was time to meet with the parents and explain the program to them. Theresa and Jen met with Grade One parents first, and as the conversations began, smiles quickly grew on their faces. One of our parents, Mavis, said to Theresa, "If you could get inside my heart you would see how my heart is dancing."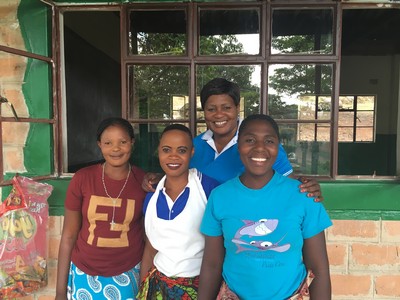 Three of our first grade parents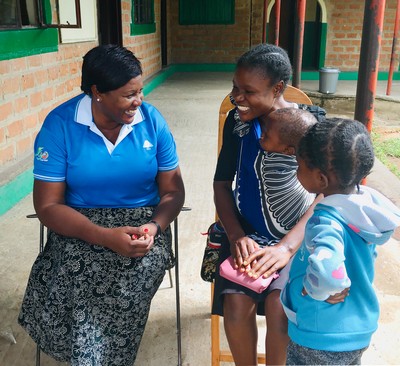 Mavis, Mercy's mom, and Theresa celebrate the good news.
As the afternoon went on, we were waiting on just one more parent. We were all chatting when all of a sudden Theresa said, "Wait. I didn't realize this. Jen, guess who this parent is coming to us now." Jen turned and looked – it was Regina. Regina was part of the Girls Program many years ago, who got pregnant when she was 12, and left the community to move to another city. At the beginning of this trip, it dropped in to ask how she was doing. Theresa shared that she had recently moved back, though Theresa hadn't yet had a chance to see her. For the Grade One girls, we just looked at picking the brightest girls, without realizing one of them was Regina's daughter. Seeing her at the property, with an opportunity for her child to have an education that Regina wasn't able to have, was a full circle moment. Regina was very happy for her daughter to have this opportunity.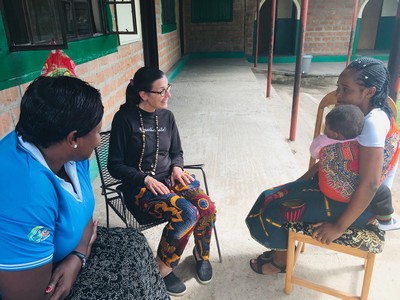 Catching up with Regina and sharing the good news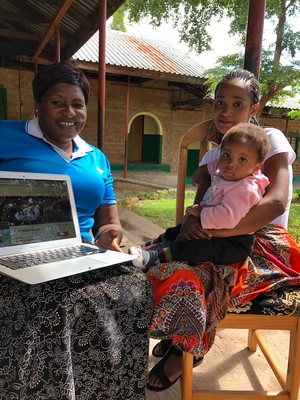 Then and now: On one of our fundraising pages is a photo of Regina when she was younger.
While this was happening, Sreedevi was off with Anne and Memory, working with them on how to use certain apps on the iPad to assist the girls with English and spelling. We found one great app that allows the team to create their own spelling lists and not depend on pre-made lists. This is particularly important as most of the apps tend to serve Western audiences, and there are words and phrases that aren't part of the Zambian lexicon. After app training, we headed to the library. We discussed how we wanted to create an educational "toolbox" with lots of different "tools" or resources that Anne and Memory could use based on what they felt may be most effective for each girl. Technology is great, but so are good old fashioned books! We reviewed the books that were available and discussed next steps. First up, assessment time. Anne and Memory will be looking at how to evaluate each girl's English language, reading, writing, spelling and comprehension skills. Quite a major task! That's what is so great about doing this as a team; we don't necessarily have to know exactly how we are going to do it, just that we are on this path together.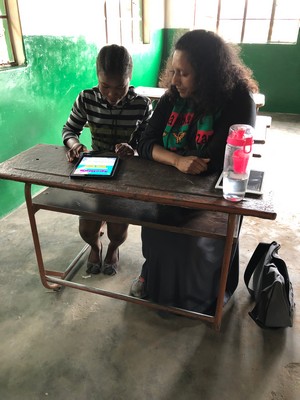 Christine, one of our students, practicing with the spelling app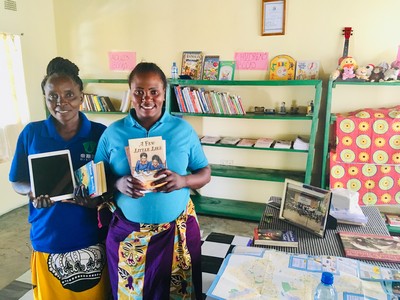 Anne and Memory, our English program leaders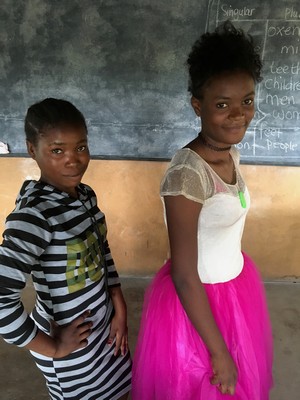 Natasha and Christine strike a pose for the camera.
It was then time to head off to the Mary Begg Clinic. One of the community's biggest challenges is access to adequate health care, and we wanted to make sure Veronica saw a doctor for high blood pressure. After arriving at the clinic, we learned that Veronica's blood pressure was dangerously high, and that she has been taking the wrong medicine for the last nine years. She was taken to the emergency room and immediately put on correct medication. Within two hours, her blood pressure was back to normal and she was discharged.
As we left the clinic and headed back to the lodge, we remarked that it was a day of happy endings. Rachel and Esther got into college, five of our brightest pre-schoolers would be immersed in a strong educational environment, and our dear friend Veronica got the medical attention she very much needed.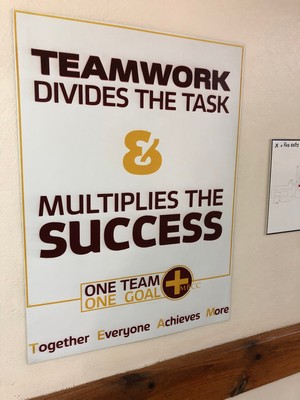 This is a sign from the Mary Begg Clinic. It personifies the spirit of this community.
Some fun additional photos to end the day!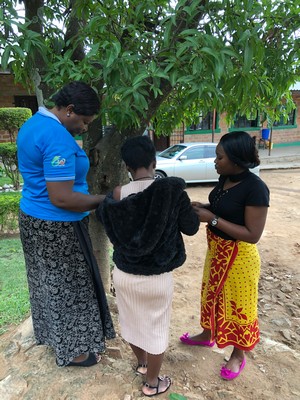 Rachel and Esther showing us how they made little bags out of mango leaves when they were children, playing our version of "house."