The end of a trip always brings with it a mixed sense: that we have lived a lifetime here with our Zambian family, and that we only just arrived.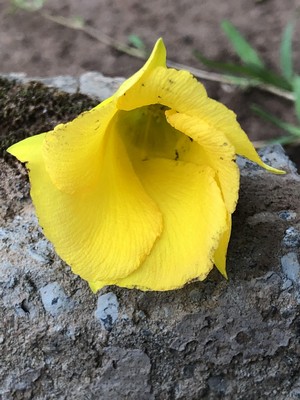 Starting the day with beautiful flowers in the neighborhood of the guesthouse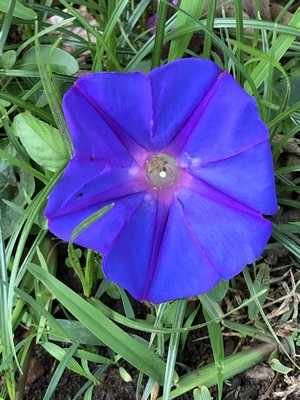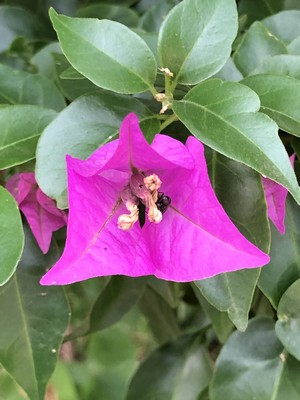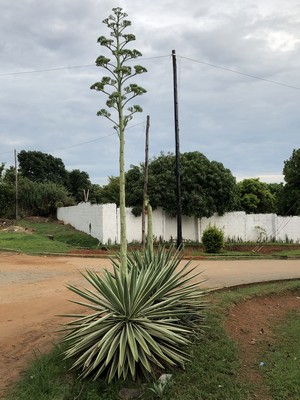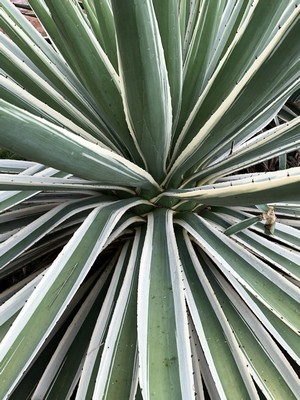 Today is Saturday, the one day in the week when all the girls in the Girls Program are out at the property at the same time. That was a grand pleasure in itself—to walk into a room and see the faces of each of the girls that have been on our minds these past two weeks. We have been looking carefully at where each one is in her education, what decisions there are to be made, and what particular support she needs. And here they all are, having a ball, competing in a spelling bee, the teachers jovially encouraging them and delighting in their successes. It evokes such a sense of family. We know them, each and every one of them, and we invest in them as if they are own kids. And they are.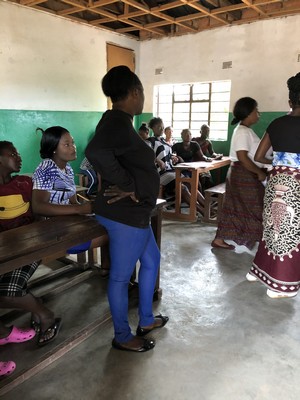 The girls assembled.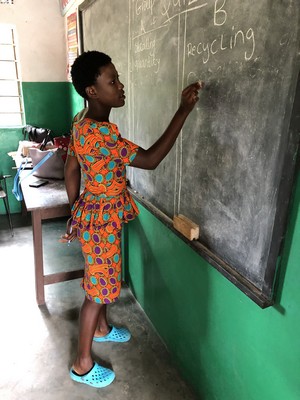 Sophia takes a turn for team B.
Theresa walked in after a few minutes. "Have you told your friends?" she asked, directing the question to Esther and Rachael, who shyly responded, "Some know." Theresa turned to the whole room. "Your friends Esther and Rachael have been accepted into nursing school. On January 9, they will begin school." Great applause broke out. The girls reached out to shake the hands of our proud pioneers.
Last night, as we were going through some photos, we came across an exercise we had done a couple of years ago. Each girl in the program had written or drawn about their dream—what they hoped to do upon completing their education. We all got goose bumps when we found the photo of Rachael's drawing of her as a nurse and Mirriam's (one of the two girls enrolled in nursing school earlier this year) detailed list of what she would need to accomplish to reach her dream of becoming a nurse. It had seemed a long way off to all of us at the time, and a real question mark whether the project was at a place where that could become a reality. It has, x4. All four girls who graduated from grade 12 last year (the first in the program to do so) are now enrolled in college. We are beating some pretty significant odds.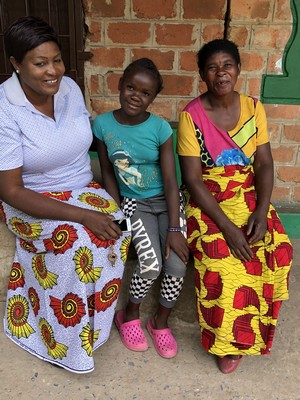 Esnat, one of the grade 4 girls chosen to enter the private school Twaabo in January to start grade 5, came with her mom today. Theresa explained the program to Esnat's mom. "It's a good idea," her mom exclaimed!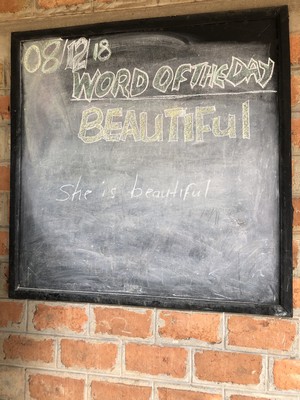 The word of the day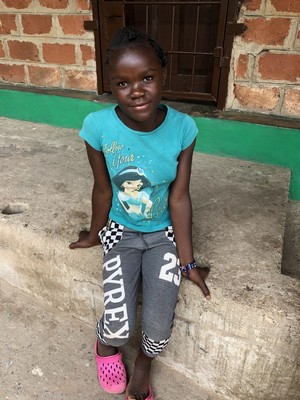 We thought it fit Esnat perfectly!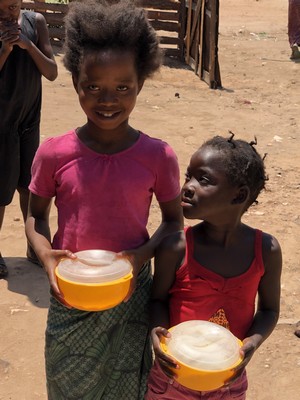 Jen, also among the grade 4 girls heading to Twaabo next year, and a friend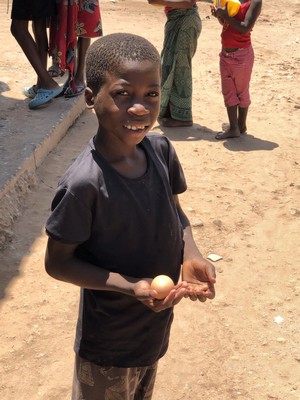 No goodbye day would be complete without an appearance by Bruce.
The final goodbye with the team was what it always is—a joyous and lively celebration of the connection between two communities that most of the time are separated by many thousands of miles but have a heck of a good time on the occasions we get to be together in person. It's much like coming on retreat—technology allows us to practice together on a daily basis, but it never takes the place of being together, all in the same place.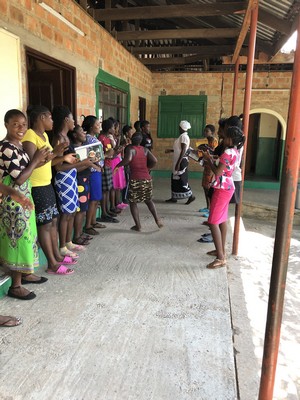 The girls begin the goodbye party.
Watching the raucous laughter and conviviality as we danced and sang our goodbyes—the girls with each other, the girls with the co-op members, the girls with us, the co-op members with each other, the co-op members with us, and noting that everyone participated—it was so clear that love is the fuel of this project. From that love has grown respect, patience, perseverance, courage, trust, determination.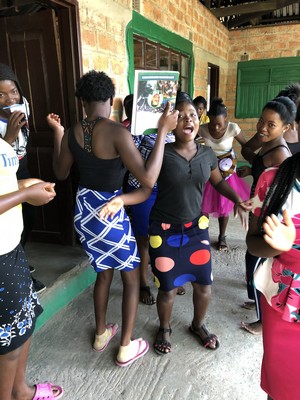 Fun!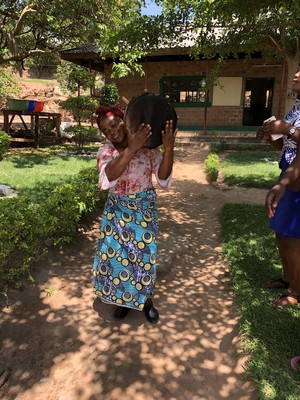 Brenda carries the drum as the singing procession escorts us to the car.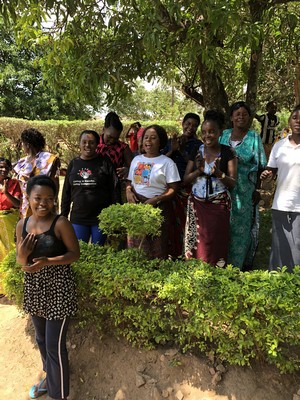 The view as we pull away
Earlier in the week, Veronica shared a moving observation: "I have learned something here," she began. "I remember when Mama Cheri shared with us some years back that everything is sacred. That really touched something in me. And when I was not feeling well the other day, Jen brought me water. Then when we were at the guesthouse for the Bridge Walk event, Sreedevi brought each of us water. You love us," she smiled. "You have a heart for this community. Our project is love. No one is more important than anyone else. We are all loved. We can't fail," she continued, "Love cannot fail."
The other day when we had returned from the nursing school with Esther and Rachael, delivering the good news that we had been successful in our mission to ask the school to take a second look at their candidacy to begin the program, Beatrice had smiled broadly as she heard the news. "We are fighters," she beamed.
There is so much more ahead of us, much of it that can appear insurmountable at the time, but love cannot fail. We are fighters. We are family.
Thank you for traveling with us these last weeks; your presence is felt.
In Gasshō
The Africa Team