Another arrival day. South Africa Flight 8152 delivers Cheri, Ashwini, and Sreedevi at 11:35 a.m. today! Jen and Theresa wait excitedly as the three of them go through the slowest immigration process ever. And then it is time for hugs. "You've been missed," Theresa exclaims as she sweeps Mama Cheri off her feet in a signature Theresa bear hug.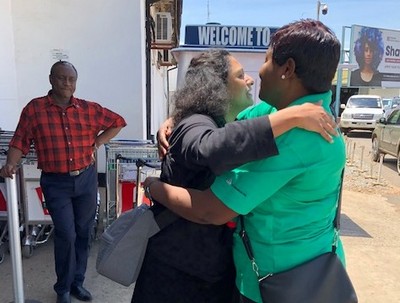 Sreedevi gets the first hug.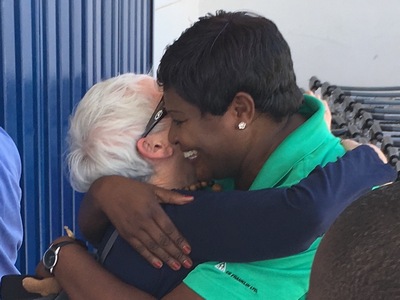 Mama Cheri follows.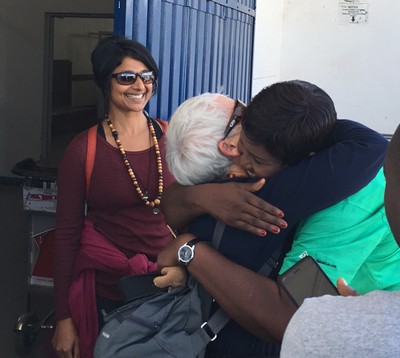 Ashwini waits her turn.
Theresa chauffeurs us to Kotuba Lodge. We have been warned to wear seat belts as the police are cracking down on safety. The police officer at the airport gate mischievously jokes, "I'll get you next time" as we leave the Simon Mwansa Kapwepwe International airport. There was a run in with him the day before when Rachel and Esther were caught not wearing seat belts.
We drop off our luggage and hop back in the car to get some lunch at Michael Angelo's, only to discover that the car will not start. There is consternation all around since our mechanical assistant has left town. Mama Cheri threatens to rock the car, at which point it springs to life! A victory snapshot later, we are on our way.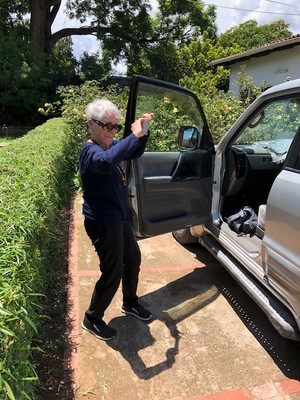 Mama Cheri takes the victory photo.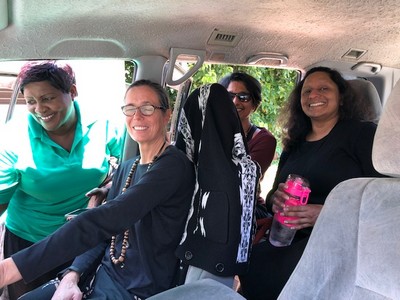 Smiling and on our way
Over lunch, we catch up with the current events in the community. It doesn't take very long for the conversation to turn strategic. As we discuss the successes of Sylvia, Miriam, and the 15 girls at Twaabu, it becomes increasingly clear that our focus needs to be on structured English reading and comprehension programs. Private schools insist on English as the primary language, not just in the classroom but everywhere. Students in government schools where English is not strictly enforced don't do as well academically and therefore are not as competitive when it comes to higher education.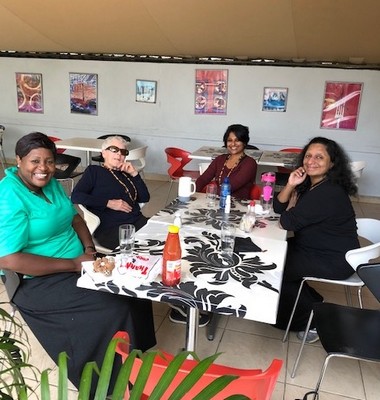 Impromptu strategic lunch meeting
Jen mentions how extraordinary it is to have this group of people all together in one place. The brainstorming of possibilities builds in a way that's so different from our normal virtual and remote communications. There is nothing like being in a room together. Don't get us wrong! We are so grateful that we have the technology that allows for frequent exchanges of information.
A grocery run, a quick top up of our Vodaphone mifi for Saturday's event, and it's back to the Lodge for writing this blog, dinner, and an early night. But not before our date with Bob to test the Zoom platform for the broadcast on Saturday.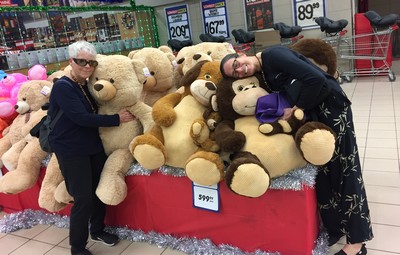 Cheri and Jen greet new friends. More bear hugs.
Robert gives us good news. We have 14 Gb left to transmit the Bridge Walk event!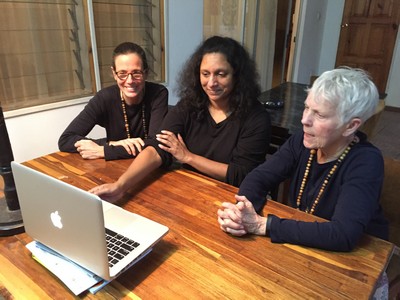 Testing Zoom